Posted by John on September 15th, 2013
It's finally starting to get a little chilly around here.  I'm not calling it Fall yet though.  I'll wait until the official start of Fall before I give up on summer.  I have one week left.  I'm going to enjoy it.  In the meantime, we finally finished up our garage improvement series that we started way back in the spring.  Here's a complete recap.
We attempted this less than glamorous effort because we're in and out of this space a few times a day and we couldn't stand the clutter, the bugs and the general grime.  I'll openly admit that all of the junk in the garage was mine.  All of the car stains on the floor were from my Jeep and all of the crap on the workbench was left over from finished or unfinished projects that I started.  This was my problem.
It was pretty ugly.
Yes, that IS my high school letterman jacket.  I lettered in Cross Country, thank you.  No, I don't wear it.  Not sure how it ended up on my workbench.
Here's where we are today.
Let's go down the list of all the projects we knocked out to get us to this point.
1.  Garage Shoe Rack:  Completed last Fall, but instrumental in adding some organization to the space.
2. Workbench Pegboard:  Helped add some visual interest to the wall above the workbench.  Gave me spot to hang my air hose and extension cables.
3.  Bug Proofed the Windows:  Probably my favorite garage project next to the epoxy floors.  Our windows are STILL bug free today.
4.  Compressed Air Pipe:  Allowed me to relocate our large air compressor to the basement without giving up access to the air source.
5.  Workbench Outlet:  Provided some much needed juice for our power tools.
6.  Charging Station:  Organized my power tool chargers.
7.  Epoxy Floor Paint:  Biggest impact to the space.  Garage looks worlds better with it.
8.  Wall Hooks:  Got a lot of my gear off the floor and onto the wall.  Feels a lot less cluttered.
I'm getting tired just looking at that list.  That's a lot of projects for a garage.  We're not completely done yet either.  Lisa still wants to paint the door and the steps black.  Not sure if we're going to paint the trim black as well.  I may try to wiggle my way out of this one until the spring.  TBD.
In our next post, we'll wrap up our summer outdoor projects.  Also, look for a reader survey shortly.
Posted by John on August 8th, 2013
Back to home improvement projects.  One of the big goals we had in our Spring and Summer Plans post was to really straighten out our garage situation.  When we started, it was cluttered, loaded with spiders and insects and needed to be cleaned as well as repainted.  So far this summer, we managed only a few minor garage related projects: relocating our baby strollers, bug proofing the garage windows and adding a pegboard above the workbench.  We're aiming to get as much stuff off the floor as possible and to that end we've been heavily using hooks for organization.  We're hoping that if we DO get all of our junk off the floor, there's a good chance there will be less places for insects to hide.
I wanted to show you one of the ways we're using inexpensive hooks from the hardware store to de-clutter.  Normally, we'd hang stuff from them, but they can also be used to restrain objects against the wall.
Like this ladder for example:
Instead of putting the entire weight of the ladder onto the bracket, the ladder rests on the concrete foundation below it and the bracket just keeps it from falling over.
Bye bye spider eggs.
We also used this wall anchor approach with our last baby stroller. This baby stroller is a double seat model, it's a bit heavier than the other two and there's no simple place to hang it on the wall. So I decided to anchor it to the wall by one of its wheels.
The other thing we mounted this week was the saw horses. Since I mostly use these guys for spray painting, they can stay in the garage.
With most of the clean up completed, we're waiting for a good day to get some painting done in here. Lisa wants the door to the house painted black and we'd love to apply a fresh coat of epoxy paint to the floor.
Posted by John on July 30th, 2013
Lately, we've been posting quite a bit on web design and development.  If it's not something you're really into, I apologize.  We'll be switching back to home projects full time very shortly.  If you have been enjoying them, or at least putting them on your "must read at some point" list, we won't be abandoning them completely.  In today's post, we wanted to share with you a super quick project that's already cleared up some much needed garage floor space: stroller storage.
One of the goals of our garage spruce up effort is to remove as much junk off the floor as possible.  We're doing this primarily for two reasons: 1) we want the garage to be a tidy space and 2) everything that stays in the garage eventually gets covered with spiderwebs and bugs.  To that end, Lisa suggested we relocate the strollers that have been hanging out on the garage floor or leaned up against the cabinet.
After thinking about it for a while, there is really no ideal location for these things, at least in the long term.  Then again though, we're probably not going to need baby strollers hanging around for the next decade.
Our interim fix?  Hanging them up in the basement stairwell.  It's not perfect, but the space is unfinished, so dirty strollers fit in well.  Plus, it's pretty close to the garage, so Lisa doesn't need to carry it clear across the house.
I bought a couple of these Blue Hawk hooks available from Lowes.  They're only a couple bucks each.
After locating a stud, I pre-drilled using a bit slightly smaller than the diameter of the hook threads and screwed it in by hand.
The strollers hang neatly from their hooks.
Eventually, when we finish the basement, we're going to need to come up with a better solution.  For now though, this works great.
Posted by John on June 16th, 2013
Happy Father's Day to all of our fathers on earth and in heaven!  We hope everyone had a great Sunday.  Lisa followed a couple of my gift suggestions from our last post (#2!), so I did pretty well.  :)
On Saturday, I managed to install a pegboard in our garage above my workbench.  While I already had a good amount of storage in there, this certainly helps with a few items.  I had originally considered buying a Craftsman pegboard that is an accessory for my Craftsman workbench, but the unit costs $140.  Here's what it looks like..
(via Craftsman)
Now it's a quality piece made from metal, but I couldn't see myself paying that much for a piece of pegboard. Sorry Sears. Instead, I bought a 4′x 4′ piece of pegboard made from MDF from Lowes. It's not as rigid or strong as the metal pegboard, but for what I'm going to use it for, it'll be fine.
I still wanted a black look to it though, so I rolled on a couple coats of a black gloss paint I picked up.  I also had Lowes cut it in half for me so it would fit in my car. The pegboard cost around $9 and the paint was another $10.
With the pegboard painted, I located and marked the studs above my workbench using a stud finder.
The pegboard can't be installed directly over the drywall. It needs a space behind the board in order for the hardware to engage properly. So I installed a few 1″ wide 3/4″ thick shims that I cut from some leftover plywood. I also spray painted the shims so you wouldn't see the bare wood behind the black pegboard.
One of the wood strips landed on an area that didn't have a stud, so I just used regular drywall anchors for that one strip.
With the strips installed, the pegboard can get screwed right into the strips using some wood screws and finish washers.  The MDF pegboard mushrooms a bit when you screw something into it, so the finish washers help hide that.  Plus, they're cheap and I had some laying around.
The pegboard uses standard pegboard hardware that you can find at any hardware store. For now, I'm using a couple hangers to keep my extension cords off of the floor. A velco strap helps to keep the cord together on the hanger.
One of the goals of this garage improvement effort is to get as much stuff off of the floor as possible. We live on a wooded lot and consequently, we get a ton of bugs in our garage. I don't mind the bugs too much, but I draw the line at giant spiders.
No thanks.
So how was your weekend? What did you do for Father's Day?
Posted by John on June 4th, 2013
When work on a major home improvement project finishes up around here, we're usually left with one space that looks pretty sharp.. and one space filled with scrap wood, empty boxes and tools that haven't made their way back to their proper place.  Those sacrificial spaces are typically the basement and the garage.  Now since Lisa almost never goes into the basement (out of fear of our basement) and we're in the garage everyday, you can guess where my priorities will be focused for our next project.
Now, we've already done a little bit of work in here over the last couple years like our shoe organizer and the painting, but there's still quite a bit left on our to-do list.  I've already started cleaning the place up and added a few organizational pieces, like these towel hooks re-purposed for our flip flops.
Lisa's also been pinning some garage ideas.  Here's what we're thinking about.
Pegboards:
(via Martha Stewart)
I think a nice pegboard above our workbench would be help me keep my work area clean… for longer periods of time anyway.
Additional shelves and hooks: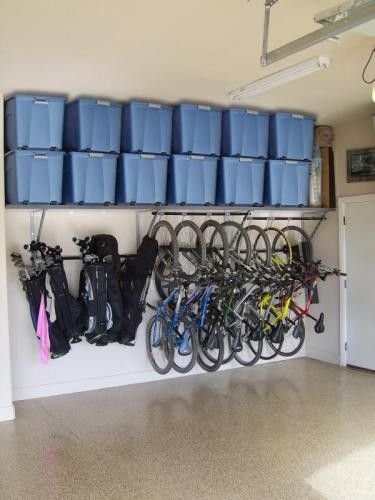 (via Garage Monkey)
I've got a golf bag I need to get up off the floor and we have a couple strollers we'll probably want to hang somewhere.
Contrast Paint:
(via Houzz)
I like the idea of adding some paint to give the garage a little character.  Nothing over the top, but we'll see.
You may notice a common thread in these photos.. these spaces are immaculately clean.  You could eat off the floor in those garages.  You couldn't eat off a clean plate in my garage.  We've had oil spills, brake fluid spills and paint spills. Keeping it clean will be an adjustment.
Any suggestions?