Shoe Organizer Projects on Hometalk
Posted by John on January 23rd, 2015
Happy Friday!
In today's post I wanted to share with you a collection of shoe organizer projects I've curated on Hometalk.com.  Each of these projects are available for viewing on my Shoe Organizer Clipboard on Hometalk.
If you don't already have a free user account at Hometalk, I'd recommend you sign up for one.  You'll be able to post your own projects or questions and comments to other user's work.  It's a great resource for DIYers.
Here's the shoe organizer project collection:
Have a great weekend and we'll be back next weekend with more shop work!!
Posted by John on December 16th, 2014
In this post, you'll learn:
– How to organize your office cables with inexpensive hardware
– Tips for using a hole saw for large diameter holes
Now that we've actually been using our new home office for a few weeks, we're starting to really enjoy the space.  On top of that, we've noticed a few areas that aren't quite as functional as we'd like them and in this post, you'll see how we fixed those issues.
Office Cable Management
Let's start with the biggest issue so far: cable clutter.
There's a simple reason for this mess:  the closest outlet for the computer, printer and paper shredder is inside the cabinets.  There's an outlet in each one, so we have to run the cables into the cabinets from the front.
The outlet locations were intentional.  I wanted to make sure they were inside the cabinet and not under the desk.  If they were under the desk, then I'd have cables more visible from the room entrance and I didn't think that would be very attractive.  I also didn't want to loop the cables from under the desk onto the top of it.
So here's what we did.
I pulled out my 2-1/8″ hole saw and drilled some holes.
If you've never used a hole saw, I recommend the ones where there's a longer center drill bit in the middle.  It allows you to locate your hole more accurately without the bit wandering around as these bits tend to do.
When you use a hole saw bit, it helps if you try to wobble the drill a little as you push down.
Once the hole is drilled, I'll pop in one of these desktop cable organizers (affiliate link).  Actually called a grommet.
The grommet gets held in place with a little adhesive caulk, but if I used a 2″ sized hole saw like I should have, it wouldn't need the glue.  It would fit snuggly without it.
After the hole is drilled, the hole saw will look like this:
You'll have a wood plug in the drill that you'll need to remove.  The hole saw actually has these small slits in the side where you can stick a flat head screw driver and pop the plug out from behind.  You can also run the drill in reverse and tap on the side of the bit.  Either works.
In addition to the grommet in the desktop, I added one to the side of each built-in cabinet.
These side grommets will allow me to run my desktop cable into the cabinet.  It's also perfect for our paper shredder.
Inside the cabinet, I mounted a power strip with a built-in surge protector.
So now our office cable situation is under control.
Much, much better.
Thanks for reading.  If you like our office remodel series, including this post, please share on social media.  Later this week I'm going to give you the details for what we have in store for 2015.
Posted by John on September 15th, 2013
It's finally starting to get a little chilly around here.  I'm not calling it Fall yet though.  I'll wait until the official start of Fall before I give up on summer.  I have one week left.  I'm going to enjoy it.  In the meantime, we finally finished up our garage improvement series that we started way back in the spring.  Here's a complete recap.
We attempted this less than glamorous effort because we're in and out of this space a few times a day and we couldn't stand the clutter, the bugs and the general grime.  I'll openly admit that all of the junk in the garage was mine.  All of the car stains on the floor were from my Jeep and all of the crap on the workbench was left over from finished or unfinished projects that I started.  This was my problem.
It was pretty ugly.
Yes, that IS my high school letterman jacket.  I lettered in Cross Country, thank you.  No, I don't wear it.  Not sure how it ended up on my workbench.
Here's where we are today.
Let's go down the list of all the projects we knocked out to get us to this point.
1.  Garage Shoe Rack:  Completed last Fall, but instrumental in adding some organization to the space.
2. Workbench Pegboard:  Helped add some visual interest to the wall above the workbench.  Gave me spot to hang my air hose and extension cables.
3.  Bug Proofed the Windows:  Probably my favorite garage project next to the epoxy floors.  Our windows are STILL bug free today.
4.  Compressed Air Pipe:  Allowed me to relocate our large air compressor to the basement without giving up access to the air source.
5.  Workbench Outlet:  Provided some much needed juice for our power tools.
6.  Charging Station:  Organized my power tool chargers.
7.  Epoxy Floor Paint:  Biggest impact to the space.  Garage looks worlds better with it.
8.  Wall Hooks:  Got a lot of my gear off the floor and onto the wall.  Feels a lot less cluttered.
I'm getting tired just looking at that list.  That's a lot of projects for a garage.  We're not completely done yet either.  Lisa still wants to paint the door and the steps black.  Not sure if we're going to paint the trim black as well.  I may try to wiggle my way out of this one until the spring.  TBD.
In our next post, we'll wrap up our summer outdoor projects.  Also, look for a reader survey shortly.
Posted by John on August 8th, 2013
Back to home improvement projects.  One of the big goals we had in our Spring and Summer Plans post was to really straighten out our garage situation.  When we started, it was cluttered, loaded with spiders and insects and needed to be cleaned as well as repainted.  So far this summer, we managed only a few minor garage related projects: relocating our baby strollers, bug proofing the garage windows and adding a pegboard above the workbench.  We're aiming to get as much stuff off the floor as possible and to that end we've been heavily using hooks for organization.  We're hoping that if we DO get all of our junk off the floor, there's a good chance there will be less places for insects to hide.
I wanted to show you one of the ways we're using inexpensive hooks from the hardware store to de-clutter.  Normally, we'd hang stuff from them, but they can also be used to restrain objects against the wall.
Like this ladder for example:
Instead of putting the entire weight of the ladder onto the bracket, the ladder rests on the concrete foundation below it and the bracket just keeps it from falling over.
Bye bye spider eggs.
We also used this wall anchor approach with our last baby stroller. This baby stroller is a double seat model, it's a bit heavier than the other two and there's no simple place to hang it on the wall. So I decided to anchor it to the wall by one of its wheels.
The other thing we mounted this week was the saw horses. Since I mostly use these guys for spray painting, they can stay in the garage.
With most of the clean up completed, we're waiting for a good day to get some painting done in here. Lisa wants the door to the house painted black and we'd love to apply a fresh coat of epoxy paint to the floor.
Posted by John on July 30th, 2013
Lately, we've been posting quite a bit on web design and development.  If it's not something you're really into, I apologize.  We'll be switching back to home projects full time very shortly.  If you have been enjoying them, or at least putting them on your "must read at some point" list, we won't be abandoning them completely.  In today's post, we wanted to share with you a super quick project that's already cleared up some much needed garage floor space: stroller storage.
One of the goals of our garage spruce up effort is to remove as much junk off the floor as possible.  We're doing this primarily for two reasons: 1) we want the garage to be a tidy space and 2) everything that stays in the garage eventually gets covered with spiderwebs and bugs.  To that end, Lisa suggested we relocate the strollers that have been hanging out on the garage floor or leaned up against the cabinet.
After thinking about it for a while, there is really no ideal location for these things, at least in the long term.  Then again though, we're probably not going to need baby strollers hanging around for the next decade.
Our interim fix?  Hanging them up in the basement stairwell.  It's not perfect, but the space is unfinished, so dirty strollers fit in well.  Plus, it's pretty close to the garage, so Lisa doesn't need to carry it clear across the house.
I bought a couple of these Blue Hawk hooks available from Lowes.  They're only a couple bucks each.
After locating a stud, I pre-drilled using a bit slightly smaller than the diameter of the hook threads and screwed it in by hand.
The strollers hang neatly from their hooks.
Eventually, when we finish the basement, we're going to need to come up with a better solution.  For now though, this works great.
Posted by John on June 16th, 2013
Happy Father's Day to all of our fathers on earth and in heaven!  We hope everyone had a great Sunday.  Lisa followed a couple of my gift suggestions from our last post (#2!), so I did pretty well.  🙂
On Saturday, I managed to install a pegboard in our garage above my workbench.  While I already had a good amount of storage in there, this certainly helps with a few items.  I had originally considered buying a Craftsman pegboard that is an accessory for my Craftsman workbench, but the unit costs $140.  Here's what it looks like..
(via Craftsman)
Now it's a quality piece made from metal, but I couldn't see myself paying that much for a piece of pegboard. Sorry Sears. Instead, I bought a 4'x 4′ piece of pegboard made from MDF from Lowes. It's not as rigid or strong as the metal pegboard, but for what I'm going to use it for, it'll be fine.
I still wanted a black look to it though, so I rolled on a couple coats of a black gloss paint I picked up.  I also had Lowes cut it in half for me so it would fit in my car. The pegboard cost around $9 and the paint was another $10.
With the pegboard painted, I located and marked the studs above my workbench using a stud finder.
The pegboard can't be installed directly over the drywall. It needs a space behind the board in order for the hardware to engage properly. So I installed a few 1″ wide 3/4″ thick shims that I cut from some leftover plywood. I also spray painted the shims so you wouldn't see the bare wood behind the black pegboard.
One of the wood strips landed on an area that didn't have a stud, so I just used regular drywall anchors for that one strip.
With the strips installed, the pegboard can get screwed right into the strips using some wood screws and finish washers.  The MDF pegboard mushrooms a bit when you screw something into it, so the finish washers help hide that.  Plus, they're cheap and I had some laying around.
The pegboard uses standard pegboard hardware that you can find at any hardware store. For now, I'm using a couple hangers to keep my extension cords off of the floor. A velco strap helps to keep the cord together on the hanger.
One of the goals of this garage improvement effort is to get as much stuff off of the floor as possible. We live on a wooded lot and consequently, we get a ton of bugs in our garage. I don't mind the bugs too much, but I draw the line at giant spiders.
No thanks.
So how was your weekend? What did you do for Father's Day?
Posted by John on June 4th, 2013
When work on a major home improvement project finishes up around here, we're usually left with one space that looks pretty sharp.. and one space filled with scrap wood, empty boxes and tools that haven't made their way back to their proper place.  Those sacrificial spaces are typically the basement and the garage.  Now since Lisa almost never goes into the basement (out of fear of our basement) and we're in the garage everyday, you can guess where my priorities will be focused for our next project.
Now, we've already done a little bit of work in here over the last couple years like our shoe organizer and the painting, but there's still quite a bit left on our to-do list.  I've already started cleaning the place up and added a few organizational pieces, like these towel hooks re-purposed for our flip flops.
Lisa's also been pinning some garage ideas.  Here's what we're thinking about.
Pegboards:
(via Martha Stewart)
I think a nice pegboard above our workbench would be help me keep my work area clean… for longer periods of time anyway.
Additional shelves and hooks: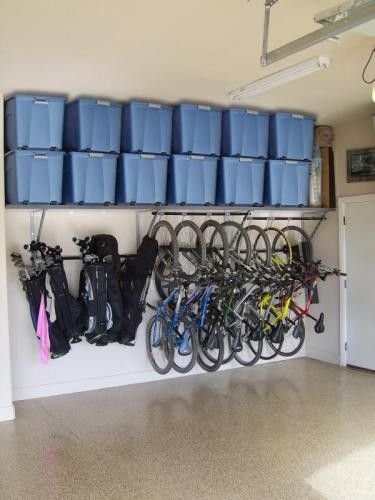 (via Garage Monkey)
I've got a golf bag I need to get up off the floor and we have a couple strollers we'll probably want to hang somewhere.
Contrast Paint:
(via Houzz)
I like the idea of adding some paint to give the garage a little character.  Nothing over the top, but we'll see.
You may notice a common thread in these photos.. these spaces are immaculately clean.  You could eat off the floor in those garages.  You couldn't eat off a clean plate in my garage.  We've had oil spills, brake fluid spills and paint spills. Keeping it clean will be an adjustment.
Any suggestions?
Posted by Lisa on April 3rd, 2013
Hey there! I hope you enjoyed our last post about preparing for baby numero dos. With the finish line in sight, we're pretty much ready to go. I need to write a post about all the baby gear expectant parents need for a newborn and I'm hoping to share a little more in depth about my make-ahead meals later, like the recipes and such, but I can't make any promises. I'm hoping this baby shows up sooner than later!
Another necessary baby prep all nesting moms do is organize the nursery. Last weekend John completed some touch up paint and gave the nursery a deep clean (thanks!!). After that was complete, my mom and I cleaned the dresser drawers and washed all of the baby clothes. When we first set up the nursery for our daughter, I took the time to line every drawer with contact paper. I'm so glad I did that because this time around cleaning the drawers was a breeze. We used non-toxic baby surface wipes for the drawers and allowed them to air dry while we did all the baby laundry.
I organized each drawer to have a "theme" and tried my best to group like age times together (like clothes for 3 or 6 mo. old). Some items, like bedding for example, will be in the drawers temporarily until the baby comes home and we are ready to use the cradle and crib sheets. There's no use to put them on now because they'll just get dusty again. Also, I know once the baby arrives I will be tweaking the drawers since I will end up getting more clothes.
Here are some photos of the drawers in the nursery. We still owe you updated Nursery pics, but to be honest, it's not much different than the last time. Oh and btw, these photos were taken at night with my iPhone, so the quality isn't too great.
The top drawer of my changing table houses newborn diapers, wipes, and a cosmetic bag that has a baby brush, baby nail clippers, butt paste (there is such a thing), and lanolin. These are the essentials I like to keep near so I can grab an item with one hand if necessary.
I also have a drawer of washing essentials – all of my hooded towels and washcloths get placed together along with my changing pad covers.
The bottom drawer is filled with crib bedding. I have my mattress protector, waterproof pads, and multiple crib sheets tucked away nicely.
The top drawer of my tall dresser has baby socks, newborn hats, and my burp clothes and cotton bibs. I also have my activity mat in the back until I am ready to use it for baby tummy time.
Below that drawer are my long and short sleeve onsies, sized 0-3 month. I also have my 3-6 month onesies ready to go. Next to those are my gender neutral pajamas lined up as well as my printed onesie and pants. I have these items separated by fabric bins I bought a couple years ago at Ikea.
Next I have my cradle bedding, pack 'n play bedding, boppy covers, and swaddlers.
Last but not least are my baby blankets.
There you have it – a peek into our nursery drawers. Babies sure need a lot of linens n things!
Do you have any drawer organizing tips you want to share? Anyone else buried in baby clothes?

Posted by John on November 4th, 2012
Happy Monday!  We had a mildly productive weekend.  Not gonna lie though, we're much slower at home projects since the summer ended.  Here's the deal, I'm taking a grad school class that requires weekly homework assignments on top of being parents, working full-time and doing general everyday life stuff like cooking, cleaning, eating, etc.  I'm thoroughly enjoying this class, but it's amazing how marginal my free time is.  In the summer, when I'm not taking any classes and the days are longer, it seems like I can knock these projects out quicker. Oh well.  It is what it is.  In other news, we're almost done our garage shoe rack.
Garage Shoe Rack Part 2: The Sequel.  Unlike most sequels, this follow up IS better than the original AND the book (there is no book).
We last left off with the shoe rack looking all framed up.
Now this isn't bad.  If I wanted to, I could start painting it.  But, the shelves are plywood and I think they'll look better if their edges are hidden.
To hide that plywood edge, I'm going to glue and nail on a piece of poplar that's the same thickness as the shelf.  I'll miter the edges so it wraps around the shelf.
Once the side pieces are added, it will look like this…
See, no more plywood end grain.  After spending a good amount of time trimming out those ten shelves, the construction portion is complete.
To mount this shoe rack to the garage wall, I've added a top and bottom plywood board that can be used for a fastener location.
Remember, this whole thing is mainly held together with some wood glue and pocket screws.
After some sanding, it's ready for the paint shop, i.e., my garage.
Insert exciting cliffhanger music!!
This is where we're going to leave off since we haven't finished painting it.  We'll be priming it white and then finishing it with a black gloss topcoat.  Really looking forward to getting all those shoes up off the garage floor #firstworldproblems.
So this is what 33 is like… getting excited about a garage shoe rack.  Enjoy your 20's while it lasts.
What's new and exciting in your neck of the woods?  Everyone doing okay after Sandy?
Garage Organization: The Before
Posted by John on October 8th, 2012
Happy Columbus Day!!  Or as my Italian wife calls it, "better than St. Patrick's Day."  🙂  Today we're enjoying a day off from work together and will be getting some much needed errands done.  I'd really like to get cracking on a couple quick projects this week to keep me busy (or busier) in between car repair work. Over the last couple weeks, I've been doing a few car maintenance projects like changing out my front brakes and rotors and changing my front differential fluid.  I'm not going to blog about the front diff fluid work, it's kinda boring and really, really messy.  I've noticed that my work and storage areas are really getting cluttered and disheveled.  Actually the whole garage could use a boost in cleanliness and organization.
Here's what it looks like right now.
Yikes.
It's really not THAT bad, it's just become an eyesore at this point.  The entire workbench area is a hot mess.
What do we have here?  Looks like my letterman jacket from high school.  I lettered in cross country.  Haven't jogged since like 1998, for real!!  Not sure why that's there.  I think it may have been in my car a while from some reason.  We've also got a couple mini propane containers, spray cans of polyurethane, paint stuff, a MAPP gas can.  You get the point.  I think the wall above this bench would make a great spot for a shelf, even if it is a little high up.
Also got my bucket buddy, which may be the greatest tool caddy invention ever.  That gray 5 gallon jug is filled with used engine and gear oil.  Need to get rid of that soon.  Couple rotor boxes and an extension cord.  I'm somewhat self shaming myself here.  I think it will give me a kick in the pants to get moving with cleaning this up.
The rest of the garage isn't too too bad.  We STILL need to get some shoe organization going.  That's high on my to-do list this week.  AND we have a timer switch for the outdoor lights that's literally been sitting on my workbench for nearly a year.
The floors could stand to be re-epoxied, but that's definitely not going to happen until at least the spring.  The first epoxy coat I applied right after we moved in is a bit blotchy.  The concrete absorbed some of it in certain areas and consequently it's rough and porous in those spots.  The rest of the floor is very smooth and non-absorbant.  I think a second coat will do the trick.
If you're thinking about epoxy painting your garage floors, I'd recommend it.  It's not completely impervious to stains though.  The most common car fluids you'll see under your car are motor oil and water condensate from the air conditioning.  Those are fine.
Break fluid though, not so much.
Note to self:  Next time I replace a brake caliper and bleed my brake lines, put down some newspaper.
Hope you enjoy your Monday!!  What are you planning at the moment?