Posted by John on September 17th, 2013
It was a good summer.  I only got sun burned once.  Or twice.  Got to the beach a few times.  Good stuff.  As far as home improvement projects go, this summer wasn't too bad either.  Let's take a look back and see what we got done and what we postponed.
We started off the summer with a post on our Spring and Summer Goals where we listed around 9 projects.  We got a whopping 2 done.  It's just like that Meatloaf song, "Two out of Nine Ain't Bad."  Not one of his better hits.
The first outdoor project we attempted was the DIY Concrete Planter.  We had mixed results with the monogram, but overall we still really like the planter.  I am still planning on retrying this soon.  We're going to double down and make two at the same time and try to make them darker.
Next up was our Mailbox Flowerbed face lift.  We spray painted our mailbox, added some perennial flowers and mulched the bed.  It's still going strong and we're really happy with it.
After the mailbox work, we shifted gears and finished redesigning and coding our own WordPress Theme.  This upgrade had been hanging over my head for months.  I really like the feel of the new theme, but there are still a number of changes I want to incorporate.
Before heading back into the garage, we installed some UV window film to prevent further sun damage in our entryway.  It was tricky to install, but it will probably end up saving us hundreds of dollars worth of damage to our stained wood.
Finally, we finished work on our garage improvement.  That alone was around 9 or 10 posts.
So what did we skip? For the most part, landscaping.  We still need to clean up our side flowerbeds (see the hot mess above).  One is heavily overgrown and the other needs a tall shrub or tree to anchor the layout.  In order to get it done now though, we would have to rush through it.  So, we're punting it until the spring.  Womp Womp.
We have a lot of exciting Fall work lined up and we'll be building some new furniture shortly.  So stick around!
How much summer work did you get done?  What did you skip?
Posted by John on September 15th, 2013
It's finally starting to get a little chilly around here.  I'm not calling it Fall yet though.  I'll wait until the official start of Fall before I give up on summer.  I have one week left.  I'm going to enjoy it.  In the meantime, we finally finished up our garage improvement series that we started way back in the spring.  Here's a complete recap.
We attempted this less than glamorous effort because we're in and out of this space a few times a day and we couldn't stand the clutter, the bugs and the general grime.  I'll openly admit that all of the junk in the garage was mine.  All of the car stains on the floor were from my Jeep and all of the crap on the workbench was left over from finished or unfinished projects that I started.  This was my problem.
It was pretty ugly.
Yes, that IS my high school letterman jacket.  I lettered in Cross Country, thank you.  No, I don't wear it.  Not sure how it ended up on my workbench.
Here's where we are today.
Let's go down the list of all the projects we knocked out to get us to this point.
1.  Garage Shoe Rack:  Completed last Fall, but instrumental in adding some organization to the space.
2. Workbench Pegboard:  Helped add some visual interest to the wall above the workbench.  Gave me spot to hang my air hose and extension cables.
3.  Bug Proofed the Windows:  Probably my favorite garage project next to the epoxy floors.  Our windows are STILL bug free today.
4.  Compressed Air Pipe:  Allowed me to relocate our large air compressor to the basement without giving up access to the air source.
5.  Workbench Outlet:  Provided some much needed juice for our power tools.
6.  Charging Station:  Organized my power tool chargers.
7.  Epoxy Floor Paint:  Biggest impact to the space.  Garage looks worlds better with it.
8.  Wall Hooks:  Got a lot of my gear off the floor and onto the wall.  Feels a lot less cluttered.
I'm getting tired just looking at that list.  That's a lot of projects for a garage.  We're not completely done yet either.  Lisa still wants to paint the door and the steps black.  Not sure if we're going to paint the trim black as well.  I may try to wiggle my way out of this one until the spring.  TBD.
In our next post, we'll wrap up our summer outdoor projects.  Also, look for a reader survey shortly.
Posted by John on September 2nd, 2013
We hope all of our American friends had a safe and enjoyable Labor Day!  Our weekend was filled with family visits and some much needed down time.  Today we're going to show you how we finished up our new garage outlet and how we added a workbench charging station.
Let's start with the garage outlet.
Last week we had our rough-in inspection from the township electrical inspector.  It went well.  He passed us so we can "device out" the work, which means add the new outlet.
To power the new outlet, we tapped into the power from an existing GFCI outlet in our basement.  I had to remove this basement outlet as part of the rough-in work and show the inspector I ran the cable properly to the box and tied it in appropriately.
After inspecting this box, he recommended I increase its size to accommodate the additional cable.  The box already had three cables going to it and this new circuit added a fourth.  Thus, he wanted to see a slightly bigger box.  So, I had to untwist all my cables, pull them out of the box, take the box off the lumber and then add a bigger box.
The new box is considered "new work" whereas our garage outlet is "old work."  The difference is the basement outlet box is being directly attached to a wall stud.  The garage outlet was placed into a finished drywalled space.  The new box is also plastic and has a couple 1/2″ tabs that help me position the box onto the studs.  The box shouldn't be installed flush with the studs, but 1/2″ further out for future drywall.
This new box wasn't that much bigger than the first, only by a couple cubic inches.  Here's a side by side comparison of the old grey box next to the new blue one.  I believe the grey box is 18 cu. inches and the blue one is 20 or 21 cu. inches.
The box was then rewired as before and since I had the go ahead to device out the project, I reinstalled the GFCI outlet.
With the basement outlet wired, I installed my garage outlet, turned the power back on at the breaker and checked to make sure the circuit worked okay.  That's it for the electrical portion.  In a few weeks, I'll call the inspector back for the final inspection.
Now let's take a look at the workbench charging station.
The only other outlet we have in our garage is on the far wall so any battery chargers for cordless tools had to sit on the floor, which wasn't terribly convenient.  Getting them off the floor and onto the workbench was the goal.
I started by picking a spot on the workbench where my chargers would be located then drilling a hole in the workbench top with a hole saw.
I ran the charger power cables through the hole so the top will be less cluttered.
Next, I mounted a $5 power strip I bought at Lowes to one of the legs of the workbench.  Then I just zip tied all the cables together and plugged them in.
So now all I have to do is flip the red switch on the power strip whenever I want to charge my tools.  I also looked into buying one of those 10-12 outlet benchtop power strips instead.  That's a great option too, but it was $30 and I thought this option would be more a little more practical.   $25 cheaper isn't a bad thing either.
We are fast approaching the end of our summer long garage improvement series.  We only have a couple projects left: adding another application of epoxy to the garage floor and painting the interior door and steps.  There are a few yard projects I also want to knock out before we get into October, but we'll go more into those in another post.
How are you wrapping up your summer?  Are you looking forward to Fall or are you desperately hanging on to every last summer day like me?  Bought any pumpkins yet?
Posted by John on August 8th, 2013
Back to home improvement projects.  One of the big goals we had in our Spring and Summer Plans post was to really straighten out our garage situation.  When we started, it was cluttered, loaded with spiders and insects and needed to be cleaned as well as repainted.  So far this summer, we managed only a few minor garage related projects: relocating our baby strollers, bug proofing the garage windows and adding a pegboard above the workbench.  We're aiming to get as much stuff off the floor as possible and to that end we've been heavily using hooks for organization.  We're hoping that if we DO get all of our junk off the floor, there's a good chance there will be less places for insects to hide.
I wanted to show you one of the ways we're using inexpensive hooks from the hardware store to de-clutter.  Normally, we'd hang stuff from them, but they can also be used to restrain objects against the wall.
Like this ladder for example:
Instead of putting the entire weight of the ladder onto the bracket, the ladder rests on the concrete foundation below it and the bracket just keeps it from falling over.
Bye bye spider eggs.
We also used this wall anchor approach with our last baby stroller. This baby stroller is a double seat model, it's a bit heavier than the other two and there's no simple place to hang it on the wall. So I decided to anchor it to the wall by one of its wheels.
The other thing we mounted this week was the saw horses. Since I mostly use these guys for spray painting, they can stay in the garage.
With most of the clean up completed, we're waiting for a good day to get some painting done in here. Lisa wants the door to the house painted black and we'd love to apply a fresh coat of epoxy paint to the floor.
Posted by John on July 30th, 2013
Lately, we've been posting quite a bit on web design and development.  If it's not something you're really into, I apologize.  We'll be switching back to home projects full time very shortly.  If you have been enjoying them, or at least putting them on your "must read at some point" list, we won't be abandoning them completely.  In today's post, we wanted to share with you a super quick project that's already cleared up some much needed garage floor space: stroller storage.
One of the goals of our garage spruce up effort is to remove as much junk off the floor as possible.  We're doing this primarily for two reasons: 1) we want the garage to be a tidy space and 2) everything that stays in the garage eventually gets covered with spiderwebs and bugs.  To that end, Lisa suggested we relocate the strollers that have been hanging out on the garage floor or leaned up against the cabinet.
After thinking about it for a while, there is really no ideal location for these things, at least in the long term.  Then again though, we're probably not going to need baby strollers hanging around for the next decade.
Our interim fix?  Hanging them up in the basement stairwell.  It's not perfect, but the space is unfinished, so dirty strollers fit in well.  Plus, it's pretty close to the garage, so Lisa doesn't need to carry it clear across the house.
I bought a couple of these Blue Hawk hooks available from Lowes.  They're only a couple bucks each.
After locating a stud, I pre-drilled using a bit slightly smaller than the diameter of the hook threads and screwed it in by hand.
The strollers hang neatly from their hooks.
Eventually, when we finish the basement, we're going to need to come up with a better solution.  For now though, this works great.
Posted by John on July 1st, 2013
This past weekend, between family reunions and thunderstorms, I was able to validate a new idea for keeping bugs out of my garage windows.  As I mentioned in my last post on this topic, we get a good amount of bugs in the garage.  We live in a rural area and are up against a wooded lot.  It's one of the few downsides to this particular home site.  If you're in a similar situation, you're probably familiar with how gross it gets.
Now the way I see it, I have two options: I can clean the window and the shade a few times a year OR I can add some sort of screen to keep the bugs out of the windows.  I can cover the inside of the window with a traditional screen, but some bugs WILL still get through and I'm not sure how to integrate the screen with the drywall.  To my knowledge, no one has invented a force field yet, so that option is out as well.  After kicking around some ideas with Lisa for a few days, here's what we came up with and I think you'll like it.
Here's a great way to bug proof your garage windows:
What we started with…
First thing I did was ditch the paper shade.  We're going to use a slightly higher quality temporary shade made from fabric.  You could also use a more traditional faux wood blind or mini shades, but we wanted something simple that didn't have any cords.
After giving the window a thorough cleaning and touching up the stained drywall with fresh paint, we had a nice looking view.
The fabric shade was next.  It has a glue strip and I held it in place with the provided clips.
This particular solution requires a thin piece of wood to sit in the window well flush with the drywall.  I ripped a couple pieces of poplar down to 3/4″ x 3/4″ and spray painted them white to match the garage paint.
The painted wood gets a thin bead of caulk on the side facing the wall and gets nailed flush with the window well edge.  No fancy joints needed here, butt joints are fine.  The size of the wood is small enough that you'll barely notice it.
Can you tell what we're doing yet?  No?  Here's the deal.. we're going to cover the window opening with a clear sheet of plastic that is used to insulate single pane windows in older homes.  It uses double-sided tape to attach to the wall and it requires a wooden surface to hold onto.
Here's what the product looks like…
You can buy it at any hardware store.  It comes with a roll of double-sided tape that you can promptly throw out.  It's absolute crap.  It sticks to your fingers WAY better than the painted wood, for which it's designed.  Instead, buy a roll of heavy duty double-sided carpet tape. It's supremely strong and comes in clear. It's going to be wider than what you need, but you can cut the excess off with a box cutter.
****UPDATE: I've switched tape products from double sided carpet tape to Scotch brand 3/4″ x 350″ two sided tape.****
I rolled the tape over the wood, trimmed off the extra and peeled off the backing of the tape. Now we're ready for the plastic sheet. It's a little tricky to hang, but I managed to attach it to the tape without many big creases. Small creases will get corrected in the next step, but bigger folds need to be fixed by un-attaching the plastic from the tape and re-attaching it.
With the plastic sheet over the window, the excess plastic around the window was cut with a box cutter to give it a cleaner look. The plastic is then tightened with a blow dryer set to high temp. The blow drier removes nearly every little wrinkle and leaves the plastic wrap tight like a drum. You may have to reapply some tape if it peels off and retighten it depending on how well the tape holds.
You're left with a clean window well that lets all of the light in, but not a single bug.  If you look closely, you can see the reflection off the clear plastic.
It even looks solid from outside.
It's a simply solution that you can whip up with some scrap wood and it sure beats cleaning up bug guts!
So I've only finished the center window. Looks like I'll be busy this week.
****Update #2:  If any of the double sided tape starts to peel off the wood, use contact cement to re-adhere it.****
Posted by John on June 19th, 2013
Full disclosure:  All the windows on the first floor of our home have temporary shades.  In case you were keeping count, that's three years we've been here.  I guess it's not too bad, since they're fabric.  We still intend to replace them with something of a slightly higher quality.  In our kitchen and family room, we're leaning toward building some plantation shutters.  Who knows when that will happen though.
The garage, on the other hand is a different story all together. The temporary shades in there are paper and they've taken a beating over the last few years.  The worst is the bugs.  They all seem to clamor around the windows and end up either dying on the sill or getting latched onto the shades.  I've cleaned them up in the past, but it's not the type of maintenance I want to do on a regular basis, if you know what I mean.  The drywall sill is even at the point we're I'm going to have to touch up the paint.  This is one of the few downsides of living on a wooded lot.  Great privacy… tons of bugs.
So what are we going to do about it?  Good question.  I'd like to come up with a sort of screen that'll allow me to put a nice fabric window shade against the glass yet will be tight enough to keep the bugs out.  I'm thinking of either making it out of actual screen material or something transparent, like a clear plastic.  Ideally, the window will be nearly flush with the rest of the garage wall and bugs won't have a ledge to land on.  Moreover, I'd like it to be semi-permanent in case we want to add an electric candle light during the Christmas season.
Really, any option will be better than the bug graveyard we have going on.
So that's probably what I'm going to be working on this weekend.  That and theme coding.
Have any bug quandaries?  Any suggestions?
Posted by John on June 16th, 2013
Happy Father's Day to all of our fathers on earth and in heaven!  We hope everyone had a great Sunday.  Lisa followed a couple of my gift suggestions from our last post (#2!), so I did pretty well.  🙂
On Saturday, I managed to install a pegboard in our garage above my workbench.  While I already had a good amount of storage in there, this certainly helps with a few items.  I had originally considered buying a Craftsman pegboard that is an accessory for my Craftsman workbench, but the unit costs $140.  Here's what it looks like..
(via Craftsman)
Now it's a quality piece made from metal, but I couldn't see myself paying that much for a piece of pegboard. Sorry Sears. Instead, I bought a 4'x 4′ piece of pegboard made from MDF from Lowes. It's not as rigid or strong as the metal pegboard, but for what I'm going to use it for, it'll be fine.
I still wanted a black look to it though, so I rolled on a couple coats of a black gloss paint I picked up.  I also had Lowes cut it in half for me so it would fit in my car. The pegboard cost around $9 and the paint was another $10.
With the pegboard painted, I located and marked the studs above my workbench using a stud finder.
The pegboard can't be installed directly over the drywall. It needs a space behind the board in order for the hardware to engage properly. So I installed a few 1″ wide 3/4″ thick shims that I cut from some leftover plywood. I also spray painted the shims so you wouldn't see the bare wood behind the black pegboard.
One of the wood strips landed on an area that didn't have a stud, so I just used regular drywall anchors for that one strip.
With the strips installed, the pegboard can get screwed right into the strips using some wood screws and finish washers.  The MDF pegboard mushrooms a bit when you screw something into it, so the finish washers help hide that.  Plus, they're cheap and I had some laying around.
The pegboard uses standard pegboard hardware that you can find at any hardware store. For now, I'm using a couple hangers to keep my extension cords off of the floor. A velco strap helps to keep the cord together on the hanger.
One of the goals of this garage improvement effort is to get as much stuff off of the floor as possible. We live on a wooded lot and consequently, we get a ton of bugs in our garage. I don't mind the bugs too much, but I draw the line at giant spiders.
No thanks.
So how was your weekend? What did you do for Father's Day?
DIY Garage Project Inspiration from Hometalk
Posted by John on June 11th, 2013
If you've been following some of our more recent posts, you know that we're trying to get our garage in tip-top shape. We're still looking for some smart storage and organization solutions and I've been stalking the garage related posts on Hometalk. You can see what ideas I've clipped to my 'DIY Garage Projects' board by clicking on the graphic.
There are a ton of DIY and home improvement projects on Hometalk and if you're not yet a regular reader, I encourage you to check it out.
Posted by John on June 4th, 2013
When work on a major home improvement project finishes up around here, we're usually left with one space that looks pretty sharp.. and one space filled with scrap wood, empty boxes and tools that haven't made their way back to their proper place.  Those sacrificial spaces are typically the basement and the garage.  Now since Lisa almost never goes into the basement (out of fear of our basement) and we're in the garage everyday, you can guess where my priorities will be focused for our next project.
Now, we've already done a little bit of work in here over the last couple years like our shoe organizer and the painting, but there's still quite a bit left on our to-do list.  I've already started cleaning the place up and added a few organizational pieces, like these towel hooks re-purposed for our flip flops.
Lisa's also been pinning some garage ideas.  Here's what we're thinking about.
Pegboards:
(via Martha Stewart)
I think a nice pegboard above our workbench would be help me keep my work area clean… for longer periods of time anyway.
Additional shelves and hooks: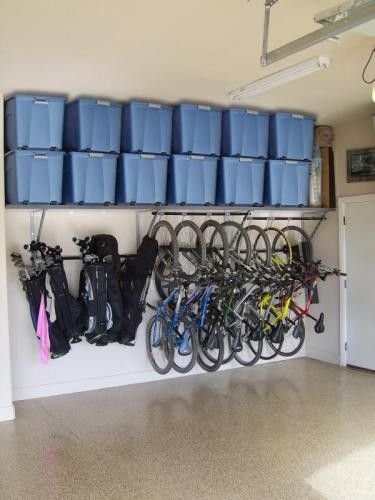 (via Garage Monkey)
I've got a golf bag I need to get up off the floor and we have a couple strollers we'll probably want to hang somewhere.
Contrast Paint:
(via Houzz)
I like the idea of adding some paint to give the garage a little character.  Nothing over the top, but we'll see.
You may notice a common thread in these photos.. these spaces are immaculately clean.  You could eat off the floor in those garages.  You couldn't eat off a clean plate in my garage.  We've had oil spills, brake fluid spills and paint spills. Keeping it clean will be an adjustment.
Any suggestions?