Outdoors and Landscaping
Your Home from Scratch #2: Colette's Amazing Deck
Posted by John on April 17th, 2014
Today we're exited to bring you another edition of Your Home from Scratch.  If this is your first time to our site, Your Home from Scratch is a new series where we interview our readers and other bloggers to bring you their challenging home improvement projects.  Last week in our first Your Home from Scratch post we interviewed Katie from Addicted 2 DIY.  Today we're talking to Colette from Moving to the Country about her new deck, which her and her family built from scratch.
What makes this project extra interesting for Lisa and I is Colette and her husband have nearly the exact same home as we do.  We both own Courtland models from Ryan Homes, although we live in different towns.  So Colette's deck project is the perfect primer for our outdoor plans.
Colette's Amazing Deck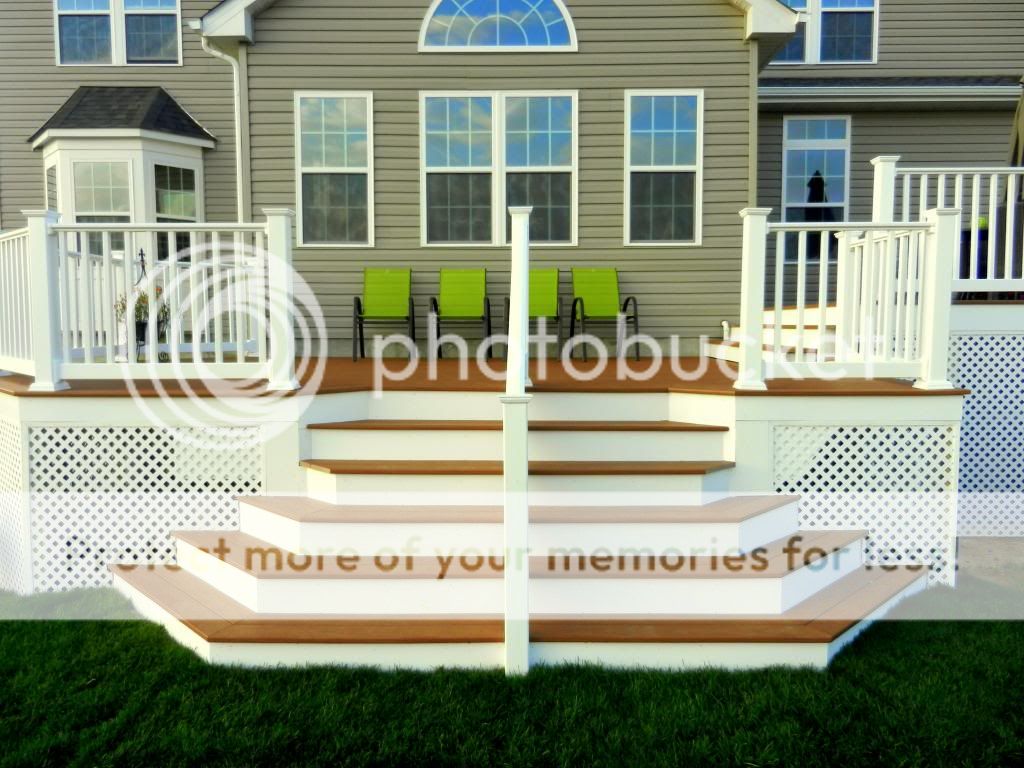 Q1. Your deck is pretty sweet.  How long did it take to build from start to finish?
In terms of chronological time, it took us about six months from start to finish.  However, we took off for three months over the winter and only worked (some) weekends. We had the footings poured by a contractor, then the framing took us about 5 full days to complete.  Then the drainage system, laying of the floor boards, railings, fascia and lattice took us about 5 weekends to complete.  The "wedding cake steps" took an entire weekend themselves to build (but it was totally worth it!).  The finishing touches actually are still not finished.  We still need finish some trim pieces around the steps and storage area.  Why does it always seem so hard to finish that last 1% of a project??  (You can see the final product with links to all of our status updates here).
Q2. How much money did you save building the deck yourself?
I estimate that we saved between $6,000 and $10,000 by building it ourselves.  Our builder was charging $11,800 for a 250 sf deck.  If you apply that square-foot price to our 480 square foot deck, it comes out to about $22,500 and it cost us about $12,000.  (You can find a complete cost breakdown of our materials here).  I should also note that we used much higher quality materials than the builder was offering.  I'm sure a contractor could have done it cheaper than our builder, but I would be willing to bet it still wouldn't be close to what we spent.  Outdoor living is expensive!
Q3. How did you decide on the layout and the two level configuration?
The layout we ultimately decided on was the 7th option I came up with (I can be indecisive with big decisions).  I looked at a lot of pictures online, and I knew I wanted two separate areas… one for dining and one for relaxing.  The reason for the two-level configuration was all based on the cascading steps, which were a must-have in my design from the start.  Because of how high our back door was from the ground (about 8 feet), if we didn't add the lower level we would have needed too many of the cascading steps to meet the ground and they would have been too wide for the front face of the deck.  By lowering the one section of the deck, we were able to get the perfect amount of cascading steps.  An unanticipated bonus of the two levels is that the wide steps between levels provides some extra seating when we have big crowds.
Q4. So the upper deck is attached to the house and the lower level is free standing?  Why not attach both?
Two reasons:  1). We wanted to avoid having to drill into the concrete foundation of our house.  The upper level ledger board attached directly to the wood base framing of the house, whereas the ledger board for the lower level would have had to attach to the foundation of the house.  2). We would have needed extra footings under the "bumped out" cantilevered part of the lower level anyway, so we decided just to pour a few more footings and make it free standing.
Q5.  You ended up making use of the space below your upper deck for storage.  How did you keep the water out?  Was your solution pricey?
So glad we did this!  The storage area under the upper level is big enough to store both of our lawnmowers and all of our outdoor furniture with room to spare.  There are two main types of deck drainage systems:  One is installed above the joists and the other is installed below the joists.  We knew we wanted an "above joist" system to maximize our storage height.  The two companies I found that sold this option were Trex Rain Escape and DekDrain.  We chose DekDrain beacuse:  1). It was cheaper.  It was about $1,000 for the whole system (for 240 sf).  Trex Rain Escapes is a little more sophisticated, but we didn't care about being fancy and were happy to save a few bucks.  And 2). You cannot buy Trex products directly from Trex and the two authorized dealers I spoke with had no clue what materials were required or how to install them.  Since we were first timers, I wanted to be sure we'd have adequate support if we ran into problems.  When I called DekDrain for information, their rep was super-helpful.  It helped that they were cheaper anyway, but I probably would have went with them even if they weren't.  In my opinion, you can't put a price on good customer service!
Q6. What was the most difficult part of the build process?
After deciding on our final design (which took about 3 months), I would say the most difficult part was the cascading steps.  We couldn't use standard stringers so we had to cut about 15 custom stringers.  There were a lot of calculations to get the right measurements and a lot of angle cuts because of the shape of steps.  It was a very tedious process, but I think the cascading steps totally make the deck, so it was worth it.  (It's also easy for me to say that since my dad did most of the work on the steps 🙂 ).
Q7. Were there any setbacks or hiccups along the way that you didn't plan? How did you get through them?
When we got to the framing for the lower level, we realized the our down spout would be in the way of our beam so we had to move it.  It was not that difficult to do (you can see what we did here) and it was a very cheap fix, but it took us a few hours to complete so we lost some time there.  If we had thought about it when we were building, we probably could have gotten them to put it in the right place to begin with.  Our inspector was also pretty tough, but we just did the extra things he asked so we didn't have any problems.
Q8. Are you interested in building our deck? 😉
Haha, sure!!  Do you have plans to build one soon?  In all seriousness, we'd be happy to help or answer any questions when you get to that point!
Thanks to Colette for her great answers.  If you are interested in contributing your challenging DIY or home improvement project for Your Home from Scratch, you can use the Contact form to shoot me an email.
Have a great week!
Posted by John on September 30th, 2013
I had high hopes for today's post.  I thought I had learned from my mistakes enough to get this one right.  You were supposed to stop by today and see a black, concrete planter on our front porch freshly adorned with festive orange mums.
Not so much.
Instead of being stuffed with fall flowers, this planter is stuffed with the remains of its own side: a casualty caused by attempting to remove the inner mold with perhaps a bit too much force.  Just a bit.
The first time I tried making one of these planters, I couldn't remove the metal letter from the mold and it got stuck in the concrete, permanently reminding me of my misjudgment.  What's worse, the concrete never settled properly around the "V" the first time I made it so it looks sort of… off.
Ah ha.  But, this time.  This time I was going to get it right.  I used a wooden letter that I could attach to the mold with screws.  I also abandoned my snobbish preference for melamine over regular plywood.  So, some background… I made concrete countertops back in the day with melamine forms and they worked great.  So great, in fact, that I poo-poo'd any suggestion of using anything except melamine for any sort of concrete mold.
The instructions for the planter, however, specified regular plywood covered with aluminum foil.  The melamine worked well, except it wasn't reusable.  It got destroyed when I tried to pop the planter out of the mold.  So, this time I opted for the tin foil covered plywood as per the Popular Mechanics instructions in the spirit of trying something new.
The instructions didn't call for pink kitchen gloves either, but… hey.
I had my lovely assistant spray down the interior of the mold with non-stick cooking spray.
After mixing up the concrete, this time with 1.5 bottles of the charcoal colorant, I was happy with how it was going.
After letting the planter cure overnight, I slowly popped off the sides.  The letter actually released pretty easily.  So far so good.  A few minutes later all I had to do was "slip" out the inner box from the mold and I'd be done.  I even went out and bought a couple bags of topsoil to accompany our new mums.
So, needless to say, the inner box didn't slip out of anything.  I was really surprised at how well the concrete adhered to the plywood considering it was all covered with tin foil and then sprayed down with Pam.   Then again, they do make skyscrapers out of this stuff, so.. we've got that going for us.
After a few minutes of trying to yank this plywood box out of the planter by hand, my friend Mr Crowbar stopped by.  We got to talking and then one thing led to another…  yada, yada, yada… and then before you know it…
Whoops.
Did you notice how much tin foil is stuck on the outside of the planter (see the first photo)?  Unbelievable.
Here's the good news.  I only spent around $10 for concrete and the black dye.  I had the plywood leftover from other projects, which would've been another $30 or so (more for melamine).
So, the important thing here is that we all learn from our mistakes.  I learned that concrete is incredibly fond of everything I stick in it and it doesn't want to give it up.  I also learned that melamine is probably way better for this.  So I can go back to being a melamine snob about my one successful concrete project (the countertops).
More importantly, I learned that Lisa is ready for me to switch gears and start on our TV console for our sitting room.  I'll probably be back out again next year though, once again in search of my white whale… wasting time and concrete.
Do you know what a PIA it is to throw out an 80 lb planter?
Before you go, here are those orange mums we bought.
AND the original planter…
Have you had any DIY fails on your end recently?  Have you also pursued a project with blind ambition to the point of madness?  Was it also a concrete project?
I feel inspired to share more of my DIY fails.  This may become a regular thing.
Posted by John on September 17th, 2013
It was a good summer.  I only got sun burned once.  Or twice.  Got to the beach a few times.  Good stuff.  As far as home improvement projects go, this summer wasn't too bad either.  Let's take a look back and see what we got done and what we postponed.
We started off the summer with a post on our Spring and Summer Goals where we listed around 9 projects.  We got a whopping 2 done.  It's just like that Meatloaf song, "Two out of Nine Ain't Bad."  Not one of his better hits.
The first outdoor project we attempted was the DIY Concrete Planter.  We had mixed results with the monogram, but overall we still really like the planter.  I am still planning on retrying this soon.  We're going to double down and make two at the same time and try to make them darker.
Next up was our Mailbox Flowerbed face lift.  We spray painted our mailbox, added some perennial flowers and mulched the bed.  It's still going strong and we're really happy with it.
After the mailbox work, we shifted gears and finished redesigning and coding our own WordPress Theme.  This upgrade had been hanging over my head for months.  I really like the feel of the new theme, but there are still a number of changes I want to incorporate.
Before heading back into the garage, we installed some UV window film to prevent further sun damage in our entryway.  It was tricky to install, but it will probably end up saving us hundreds of dollars worth of damage to our stained wood.
Finally, we finished work on our garage improvement.  That alone was around 9 or 10 posts.
So what did we skip? For the most part, landscaping.  We still need to clean up our side flowerbeds (see the hot mess above).  One is heavily overgrown and the other needs a tall shrub or tree to anchor the layout.  In order to get it done now though, we would have to rush through it.  So, we're punting it until the spring.  Womp Womp.
We have a lot of exciting Fall work lined up and we'll be building some new furniture shortly.  So stick around!
How much summer work did you get done?  What did you skip?
Posted by John on June 25th, 2013
Summer is in full swing around here, which means just about every weekend we have some sort of family activity.  Certainly not complaining.  Given the choice between spending time with family or working on my house, I'll choose hanging out with my family 100 times out of 100.  Consequently, our DIY projects have been relegated to work days.  Throw in some torrential rain and we haven't done a whole lot around here lately.  Meh.  It is what it is.
In my never ending quest to have our home be as maintenance free as possible, I've had to make some changes to our mailbox flower bed.  Keep in mind, these changes are still in progress.  I didn't feel like waiting until it was completely wrapped up.
The volume of rain we've gotten lately has been hugely helpful to our perpetually barren lawn, but has caused some problems with our mulched flower beds.  The rain washes away sections of the mulch. Sends it right down the sidewalk  It hasn't happened in normal rainfall, just the heavy stuff.
It doesn't look terrible with the missing mulch, but it's noticeable since it exposes the weed barrier underneath.  There's a simple fix to keep mulch from washing away that will prevent or at least mitigate the mulch loss:  add rocks.
Around some of the flower beds closer to the house, we incorporated river stones we bought from Lowes a couple years ago (the larger stones we got for free from a community project).  We added those stones for exactly the same reason, rain washing the mulch away.  So we know first hand how well the rocks protect the mulch.
I still need to buy a couple bags of rocks, but I had enough on hand to get started on the mailbox flower bed. I place the larger rocks down first and try to keep the spacing random. I don't want the larger rocks to look patterned.
So for the price of a bag of rocks, you can keep your mulch from running away from you.  You know what happens now, right?  It's not going to rain again this summer.
Keeping the mulch in place is the upside of the stones.  The downside is it's a little more annoying to keep the rock areas weed free.  It's not hard, it just takes a little longer and you may have to move the rocks out of the way to get at the weed roots.  Trade offs.  It's always about trade offs.  What would you rather do?  Weed the rocks once a month or replace the mulch after every heavy summer rain?
In other news, I'm hoping to get our bug-free garage window solution knocked out this weekend.  We're doing one window first to validate the concept and then we'll do the other two if we're happy with it.  Looking forward to showing you our idea.
Stay cool!
Posted by John on June 2nd, 2013
So even though we haven't officially hit the summer season yet, we've already managed to finish one of the projects on our Summer To-Do List.  Our mailbox flowerbed overhaul is all done.  Only thing left to do is water it everyday for the rest of my natural life.  Yay!
Last week we showed you how we spray painted the mailbox and you even got a sneak peak of the planted flowers.  A couple days ago I put the finishing touches in place by adding a little bit of weed blocking fabric and some black mulch.  Here's the prequel…
We started with a grassy area around the mailbox.
I used a flat edging shovel to remove the grass.  This was the hardest part of the job.
You definitely need to use the proper shovel for this work.  A regular spade shovel may work, but it'll take longer and just frustrate you.  Use a shovel like the one in the photo below.  I bought that one at Lowes a while back.  It's a Kobalt brand and it works beautifully.  When you use this type of flat shovel, you hit the grass from the side and basically scrape it off in sod-like chunks.  The grass comes out in little sheets or sections, which are perfect for plugging any sort of holes or bare spots in the yard.
With the grass removed, I worked in about 3 cubic feet of topsoil and leaf compost that I had bought in bags at the nursery right into the area I was going to be planting.  Adding quality soil will help keep the flowers alive especially since our soil is pretty much garbage.  Now the ground is ready for the plants.
Time to stage the flowers.  Lisa used the potted flowers and played with the arrangement on the pavement before settling on a layout.  Then it's just a matter of positioning the flowers in the bed and digging holes.
We chose a Stella d'Oro for the rear most flower since it has some height and blooms all summer.  The purple flowers are Royal Candles Veronica, which are somewhat shorter and the small guys are Japanese Silver Grasses.  All of these plants were marked as ideal for dry areas and a good amount of sun exposure.  We don't have a sprinkler system in the grass or anything that close to the road, so they aren't going to get any water unless it rains or we water them ourselves.  The rest of our flower beds do have a drip irrigation system hooked up though, thankfully.
We were also mindful of the height these plants will reach at maturity.  We like the varying heights they have now and we don't want the grasses in the front to tower over the others down the road.  We don't mind them growing, we just want them to grow proportional to their current heights.
We also tried to keep them spread apart.  It sure looks like we could've squeezed in some more plants in that space, but we don't want them to get overcrowded once they get bigger.  Learned that lesson the hard way.  One of our side flower beds is currently a jungle.
After I dug each hole, I would take the plant out of it's temporary pot and slice off about half of the root system.  I heard this trick stimulates the roots and helps the plant get settled into its new location.
When all the plants were in the ground, I used about a six inch wide strip of weed blocking fabric along two sides.  I could've used more and really integrated the fabric throughout the bed, but I only have grass on one side of the flower bed.  Plus, it was easier, it was 90 degrees out and I was tired and lazy.  All good reasons.
Here's what the flower bed looks like now…
Hopefully we'll be able to keep them alive.
How was your weekend?
Posted by John on May 27th, 2013
Hope everyone had a happy and safe Memorial Day!  Thanks always to those who gave their lives in defense of the freedoms we hold dear.
This past weekend we had a small family get together for our daughter's Christening.  Good times.  We also managed to squeeze in some gardening and DIYing, of course.  As much as I am a fan of outdoor projects, they beat me up.  Outdoor work is HARD!  If it's not the heat, it's the 400 lb wheelbarrow or the shoveling or the lifting.  Killer.  We decided to tackler a project that's we've been dying to get to for some time now.  Here's the inspiration pin we've been staring at…
(via Greengardenista)
We're going to break this project up into a couple posts, although you'll get a sneak peak of both in this one.  We'll start with the painting the mailbox.  Although the pin doesn't have a painted mailbox, we wanted to gloss ours up a bit.
Here's how to paint a mailbox..
We'll start with what our mailbox looked like before we started.
Nothing special here.  The mailbox and post are PVC and were installed by the builder.  We haven't touched it since we moved in.  Recently it's been covered in bird crap and has started to develop some cracking in it.  Now, we checked some new ones out at Lowes and there is a black version of this exact same mailbox for around $11.  Great deal, right?  Well, the low priced black mailbox isn't as glossy as we were looking for, it was more of a matte finish and the glossy ones were metal and started at around $30 (a couple were $60).  We already had a can of gloss black spray paint, so we only had to spend around $3 for a can of primer.  Good deal.
After thoroughly cleaning the mailbox with some dish soap and water while it was still attached to the post, we removed it to paint it.   It was attached to the mounting bracket with four screws.
We also snapped off the front cover and the red flag.  It was much easier to paint them without them attached.
We primed the pieces in the garage over some cheap plastic tarp.  Here's a tip: to avoid the mailbox (or whatever else you're spraying) from sticking to the tarp, move the part in between sprays that way the paint won't build up in one spot on the tarp.
After two coats of grey primer and two coats of gloss black, we re-installed it onto the post.  The grey primer was perfect since we were going from a white to a dark color like black.
Here's how it looks now.. you can see the flower bed as well, although we're still working on that.
If I knew it was going to be that easy, I would've done this much sooner.  It also helped that we worked on it during a holiday, so there was no mail delivery to deal with.  We still have to add a couple more plants, put in some weed screen and then mulch it.
What did you do this weekend?
Posted by John on May 20th, 2013
We're back.  Just had one of those weekends where we did next to nothing.  No home improvement projects to blog about.  No chores.  Nothing.  Watched a ton of Doctor Who.  It was everything I hoped it would be.  My batteries are officially recharged.
I'm trying to keep up the frequency of our posts, but I've been taking some extra time during the week to work on our new blog theme.  I haven't touched it since Christmas and just decided to start from scratch again.  So far so good.  I think you'll like it.  Keeping it simple.  In any case, trying to keep three posts a week and make time for a theme build just isn't happening.  Working in web design or graphic design in general is not an area of strength for me so it's mostly slow going.
In other news, it's been a while since we've had some direction around here.  We just got done a major carpentry project and dabbled in some concrete work.  I think it's time for a new to-do list so you know what we're planning.
With the end of my spring grad class and the weather getting warmer, it's officially outdoor season here.  While there are still a good amount of indoor projects on our to-do list, the vast majority of our work plans are aimed at exterior projects.
Here is a list of the projects we're planning on tackling this spring (what's left of it) and summer.  Most of these ideas are going to be relatively low cost.  We were hoping to get started on a deck build, but have decided to punt that at least into the fall.
1.  Clean and organize the garage.  Our garage is the bane of Lisa's existence.  It's dirty, unkempt and filled with bugs year round.  This is now priority numero uno.  In order to bring the garage up to something more tolerable, we have a series of tasks slated for this space.
-Apply another coat of epoxy on the floor
-Add shelves and additional storage
-Do something about our God-forsaken window treatments
-Add stroller storage
-Paint the interior door black
-Dress up the stairs
2.  Flower bed fix ups.  Time to bring these once proud flower beds up to snuff.  Our front beds are in decent shape, but our side beds are overgrown and are in need of re-edging and some additional work.

(via Greengardenista)
3.  Flower bed by mailbox.  Remember this pin?  We've been pining after this look for months.  It's time to make it happen.  Hoping we can make a big improvement to a small space.
4.  Add more exterior lights.  One of our first posts when we started blogging was the landscape lighting we added.  I'd like to make the exterior of the house pop a bit more and take care of some dimly lit areas.  A couple more spot lights should do the trick.  Oh and I need to take some quality SLR shots of the house lit up at night.
5.  Drip irrigation.  Also one of our earlier series of posts.  I bought enough supplies to take care of the entire perimeter of the house, but still need to add the system to one of our side flower beds.  You'll get a refresher on drip irrigation installation.  Piece of cake.
6.  Add motion sensors to our exterior spot lights.  Quick. Easy.  Need to do it.
7.  Shed flower bed.  After we built our shed, I gave it a rectangular flower bed that wrapped around its three sides.  Looks okay, but is impossible to cut easily with a riding mower.  I'm going to reshape the beds to make this sort of maintenance easier by incorporating curves.
These last two are inside-the-house projects, but so what.
8.  Family room trim.  Our family room is big and plain (old photo).  We've been kicking around some ideas on how to add some character and interest without breaking the bank.  Keep an eye on our Pinterest activity in the near future for hints of what we'll be doing.  I'd ideally love to be done with this project before I start my last grad course at the end of August.
9.  TV Console.  Thought I'd be knee deep in plywood by now, but think this one may wait for a rainy day.  See this post for more info on this project.
Ambitious list?  Sure is.  I work better with longer lists.  Gives me something to shoot for.
What's on your spring/summer to-do list?
Pinterest Challenge: Monogrammed Concrete Planter
Posted by John on May 8th, 2013
It's Pinterest Challenge Day everybody!  It's like "show and tell" for bloggers… times ten.  Since the weather has been getting warmer, the yard has been on our minds more often lately.  What better way to kick off our outdoor season than with garden style Pinterest Challenge project.  We attempted a somewhat ambitious project and decided to make a monogrammed concrete planter.
Here's one of the pins that inspired this project..
(via Lowes)
We already had SOME experience with concrete when we made those concrete counters way back in 2007.  This planter was a little different than the counters though.  It was considerably easier, but the approach was the roughly same.  I found a basic procedure on Popular Mechanics website that I followed dimensionally, but I used some different material.
Here's what the form looked like with the concrete poured.  We're going to do a full-blown "how-to" post or at least a lessons learned post on this (probably next week), but today we're just doing an overview.
After the concrete cured, I popped the planter out of the form and here's what we have.
It looks pretty good dry and it looks sick when it's wet.
But hang on… wasn't this supposed to be monogrammed?
We DID monogram it.  On one side.
But, that part didn't come out as hot.  We used a metal "V" from Restoration Hardware, which is the initial of our last name.  The idea is we'll have two of these on our front porch with a small green plant of some type.  Very personal.  Very unique.
So the concrete didn't fully settle into the form around the "V", obviously.  The worst part is, I was hoping to be able to pop out the V and use it on the next one.  Thought it would look pretty cool as a relief.  We also wanted to make one to see how it worked and make a matching one later.  Now I can't get the letter out! LOL!
Did I mention that's the only V I had and Restoration Hardware doesn't sell anymore!  Whoops.
Oh well.  Still looks cool though.  Weighs about 80 lbs.
So, when I make the next one… I'm going to take some extra concrete and fill in that space near the V so this one won't look weird.
In the meantime, we're going to turn the one planter around and stick with the solid side 😉  So it's not a total loss.  Fun project.
Oh and we decided to wait to on the plant until we've got both built and ready to go.
Here's a link to our last Pinterest Challenge Project, the Reclaimed Wood Frame with a map.
So, here's the rundown on the Pinterest Challenge.  It's hosted by four bloggers.. this season it's…
Katie from Bower Power
Sherry from Young House Love
Emily from Sparkle Meets Pop
Renee from Red Bird Blue
So pop on over to their blogs and check out all the projects!  We'll be back on Monday!
Posted by John on October 16th, 2012
Hey everybody!!  Hope everyone is enjoying their Fall weather!  We just had a great weekend and it was made all the better with the warm weather.  Saturday night we did a ghost walk through a town not too far from here and Sunday we met some friends and went to Sesame Place.  So our weekend was pretty packed and between that and some added car work, we didn't do any more work on our garage shoe rack.  Whomp Whomp.
Last week we did manage to squeeze in some light yard work.  I don't think we're going to be doing much of anything out there until Spring.  We will be taking some photos though of the leaves changing though!
To improve the look of our lawn, we spread out a couple of very large bags of grass seed.  Since we don't have a sprinkler system, nor do we plan on installing one, it's important that we stay on top of it with regular seeding and fertilizing.  We've considered adding a sprinkler system, but they usually run around $2500 for our front yard and they can add around $100 per month or more on your water bill depending upon how much you water your lawn.  The alternative to using city water is getting a well drilled on your property and using what is essentially the free well water to water your grass.  The advantage of the well is you can water as often as you'd like, but the well can cost around $3000.  Plus, if you don't drill down deep enough, you can hit a vein of water that has high levels of iron in it, which can discolor your sidewalk by giving it a rusty color over time.  Sucks.  So, for at least for the foreseeable future, we're going to skip the sprinkler system.  I can think of a lot of better places to sink $2500!!
In addition to our grass, there are a few areas of our yard that we're going to restyle and clean up. Our shed needs some TLC.  The flower beds were the first flower beds we made at our new home and I made some critical errors when I made them.
For starters, the plants have grown somewhat beyond their original zones so I'll need to expand the flower beds.  We still need to find a flowering plant to go in that empty window box.  This is the second straight season where we didn't put anything in it.  For shame! 🙂
The other thing you may have noticed is I didn't follow my own advice I dispensed in our Lesson's Learned post for better looking flower beds.  All of the shed flower beds are straight rows with sharp corners.  That's normally not too big of a deal, but having sharp corners makes it difficult to cut it easily in the riding mower.  Every time I cut the grass, I have to go back around the ramp with a weed wacker.  In the spring we'll be curving and expanding this whole flower bed to both improve its looks and its maintenance ease.
In our garage side flower bed, we're going to be rearranging and cleaning this mess up.
Yikes, right?  It used to be so nice!!  When we planted everything, it looked much more tame.  Like this…
Most of these plants just grew wildly bigger than we expected and started to overcrowd the bed in a bad way.  Dense flower beds can be nice or a hot mess.  This one is a hot mess.  We're going to have to figure out what to do with this bed.  More than a couple of these guys will probably be transplanted.  I think we'll probably reshape the flower bed as well.
That's the bad stuff.  Here's the good.. 
We love these tall grasses, especially when the extend those tall seedy things.. whatever they're called.  Paging Mike McGrath, there's a blogger than doesn't know what he's talking about.
So, that's what's going on in the yard.  The trees really haven't started changing color quite yet, but stay tuned for some yard pictures when they do.
Are you scheming and planning what you'll do with your yard next year or are you just enjoying the Fall weather?
What I've Learned About Flower Beds
Posted by John on September 19th, 2012
Instead of bringing you a post on some of our latest outside work as I'd planned, I'm forced to goto Option B and discuss something else.  I was hoping to come home from work and snap some quality photos of our mums, and the finished front door paint.  However, due to some pretty nasty weather, those pictures will have to wait for now.  So, onto Option B, What I've Learned About Flower Beds.
Full disclosure:  Lisa and I still do not consider ourselves to be green thumbs.  I think I can say with some level of confidence that when we moved into our current home, we had sort of a blackish gray thumb.  Let's call it a charcoal thumb.  We killed plants.  It happens.  They just tended to die on us.  We've since improved our game through many lessons learned.  Our garden isn't perfect, but I think we've learned enough to dispense some garden advice.
What I've Learned About Flower Beds
1.  Curved lines are more attractive than straight.  This one is a biggie.  If you're just starting to make flower beds, try to add some curves.  Professional landscapers rarely lay down straight flower beds.  Some straight sections you may not be able to get away from, but when possible go round or go home.  If you already have straight beds, it's easy to add some curvature.  Just shape a garden hose to the profile you like and mark the outline with spray paint or a shovel.
Add Value to Your Home
Join our weekly newsletter and learn how to add curb appeal and grow your DIY skills
2.  Use landscape fabric to keep weeds out.  Unless you love spending your free time yanking weeds every week, I'd pop for the fabric.  It's not hard to incorporate it if you already have beds.  It's also perforated enough to allow water to run through it.  They tend to come in varying levels of quality identified by their life expectancy.  I'd go with a good 15 year roll or better.
3.  Add a drip irrigation system if you don't already have a sprinkler system for your lawn.  These systems consist of a roll of flexible tube that gets run in the flower bed.  You punch holes in it or add nozzles and you connect the hose to a battery powered control valve/timer that sits on your outside faucet.  It's very inexpensive and supremely DIY.  The hose can sit under the landscape fabric or over it, so if you already have an established bed, you can add this and throw some extra mulch over the hose to hide it.  It's a great way to keep your plants alive without having to water them everyday by hand.  After all, these plants can get pretty expensive.
(via greengardenista)
4.  Add depth by planting flowers or shrubs with varying height.  In my opinion, this is the hardest part of having a sweet looking flower bed.  Staging the plants appropriately so they all show off their natural beauty yet getting the height and depth right to maximize the wow factor.  If you stick with plants that all have roughly the same height, you could be losing out on some visual interest and curb appeal.  We need to add a lot more depth in our garden.  Right now it's too one dimensional.  This mailbox photo is from Lisa's Outside To-Do List.  We're hoping to get to that mailbox project done in the spring.
I'm hoping to get some much needed outdoor work done before it starts to get too cold.  This weather is perfect for garden work.
What are your tips or suggestions?  Are you planning on any Fall garden upgrades?