Ideas
Posted by John on June 11th, 2013
If you've been following some of our more recent posts, you know that we're trying to get our garage in tip-top shape. We're still looking for some smart storage and organization solutions and I've been stalking the garage related posts on Hometalk. You can see what ideas I've clipped to my 'DIY Garage Projects' board by clicking on the graphic.
There are a ton of DIY and home improvement projects on Hometalk and if you're not yet a regular reader, I encourage you to check it out.
Posted by John on June 4th, 2013
When work on a major home improvement project finishes up around here, we're usually left with one space that looks pretty sharp.. and one space filled with scrap wood, empty boxes and tools that haven't made their way back to their proper place.  Those sacrificial spaces are typically the basement and the garage.  Now since Lisa almost never goes into the basement (out of fear of our basement) and we're in the garage everyday, you can guess where my priorities will be focused for our next project.
Now, we've already done a little bit of work in here over the last couple years like our shoe organizer and the painting, but there's still quite a bit left on our to-do list.  I've already started cleaning the place up and added a few organizational pieces, like these towel hooks re-purposed for our flip flops.
Lisa's also been pinning some garage ideas.  Here's what we're thinking about.
Pegboards:
(via Martha Stewart)
I think a nice pegboard above our workbench would be help me keep my work area clean… for longer periods of time anyway.
Additional shelves and hooks: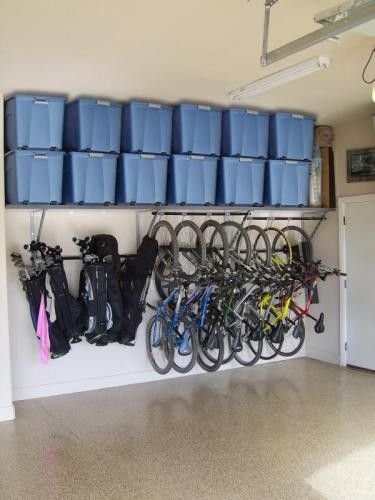 (via Garage Monkey)
I've got a golf bag I need to get up off the floor and we have a couple strollers we'll probably want to hang somewhere.
Contrast Paint:
(via Houzz)
I like the idea of adding some paint to give the garage a little character.  Nothing over the top, but we'll see.
You may notice a common thread in these photos.. these spaces are immaculately clean.  You could eat off the floor in those garages.  You couldn't eat off a clean plate in my garage.  We've had oil spills, brake fluid spills and paint spills. Keeping it clean will be an adjustment.
Any suggestions?
Posted by John on January 1st, 2013
Hey everybody!  We're back.  Hope you all had a happy holiday.  Nothing beats 10 days off from work.  We had a relaxing and enjoyable break, although I wouldn't complain if I had another 10 days off!  I did manage to catch bronchitis right after Christmas and was OOC for a few days last week.  Thank goodness for Z-Packs.  I was hoping to get loads of stuff around the house done over the holiday, but that didn't happen.  We started a few things here and there that we'll bring you up to speed on.  First though, I thought we'd share with you our Blog To-Do list for 2013.
This is a list of projects Lisa and I would really, really like to get done this year.  I'm not going to hold my breath for a few of them, but we'll see.  Can't hurt to list them and see what happens.
I'll run through these real quick…
1.  You're going to see a tour of our Master Bedroom real soon.  Prepare to be underwhelmed at how little we've done in here.  We're taking a first step and working on our attached sitting room.  We're buying a couch, throwing a flat screen on the wall and maybe making some built-ins or buying a shelf.  This is the first series of posts we have for you in 2013.
2.  Custom WordPress Theme… This one is killing me.  I know how to build it, I think.  We still have yet to put ideas to paper and create one.  I'm hoping to knock this out ASAP.  Stay tuned.
3.  See #1.  We need to do something with these spaces.  Badly.
4.  It's either build a deck or finish the basement.  We're leaning towards the deck since it makes having summer visitors more enjoyable, but having a finished basement would be sweet.  I could finish a deck in a few weekends and it's fairly inexpensive.  A basement finish would be a summer long affair and would be a LOT of material $$.
5.  The garage..  ehhhh.  We need shelves and storage.  Can you get a house keeper that just cleans garages?  This space continues to be the Bane to my Batman.
6.  Ah the office.  Our catch all that we've been meaning to get to.  I would love to work on this before the spring.  We're going to rip out the carpet, install hardwood and make some built-in custom cabinets and a desk.  We thought we'd get to this one last year.  Didn't happen.  Hoping for this year.
7. Not a big project.  I have this gentleman's chest.  It's got a lot of stuff in it.  It needs organization.. It's not very functional… you'll see.
8.  Lisa has tasked me with improving our pantry.  We have wire mesh shelves and we could probably do something a little more clever.  Apparently she doesn't like reaching into the closet for chips.  She wants the chips to come to her.
9.  Probably.  Won't.  Happen.  I want to start a compost bin or pit or pile or whatever you call it.  I want to be able to throw banana peels outside.  I'd really like to grow my own bell peppers and tomatoes.  A couple chickens would be nice too, although I suspect they are against the community rules.
10.  Needs some updating.  Some plants are dying and some are thriving.  Overall, the flower bed needs to be reshaped to make it easier to maintain.
I'm sure some of these will drop off and I can tell you we have a few more that we're playing close to our vest.  You'll just have to stick around and see what happens.
What's on your to-do list for 2013? 
Posted by Lisa on November 16th, 2011
If you're like me you are probably thinking another post on the garage?  Yes, my friends, the garage project is still going on.
One piece of the garage puzzle that is still missing is shoe organization. We need small shelves to keep shoes on in the garage.
So off to Lowe's I went to see what shelving units they had.
They had some pretty nice indoor shelves.
These are cute, but a little too sophisticated for the garage. Well except for that crooked espresso colored shelf on the right.
They also had large pieces of melamine that you can cut at home.
And a bunch of brackets to choose from.
Pretty easy and affordable, but I wasn't crazy about having an unfinished side (or two) exposed.
Everything else was the standard wire shelves that are good but I'm concerned about dirt from the bottom of our shoes getting into the shoes below.
SO that means the garage will have to go on without the shoe storage completed. It will be nice to park in the garage again!!
Ok, so enough about the garage. Since you've read this long, I figure I'll throw in some awesome (in my opinion) lampshades I picked up while at Lowe's.
So excited I saw these! I have jade curtains and I love the quatrefoil design.
Here's my lampshades in our living room before.
They're ok and I was planning on covering them to match my curtains. But it's been over a year so that project is out the window.
Here's the lamp now.
And as an added bonus here's the entire living room.
And while I was over there I took a picture of the dining room.
I am so happy I picked up these lampshades! The room is starting to get together. I can't wait to paint!!
What about you? Any projects that seem to drag on and on – just like our garage?