DIY Projects
Posted by John on April 17th, 2014
Today we're exited to bring you another edition of Your Home from Scratch.  If this is your first time to our site, Your Home from Scratch is a new series where we interview our readers and other bloggers to bring you their challenging home improvement projects.  Last week in our first Your Home from Scratch post we interviewed Katie from Addicted 2 DIY.  Today we're talking to Colette from Moving to the Country about her new deck, which her and her family built from scratch.
What makes this project extra interesting for Lisa and I is Colette and her husband have nearly the exact same home as we do.  We both own Courtland models from Ryan Homes, although we live in different towns.  So Colette's deck project is the perfect primer for our outdoor plans.
Colette's Amazing Deck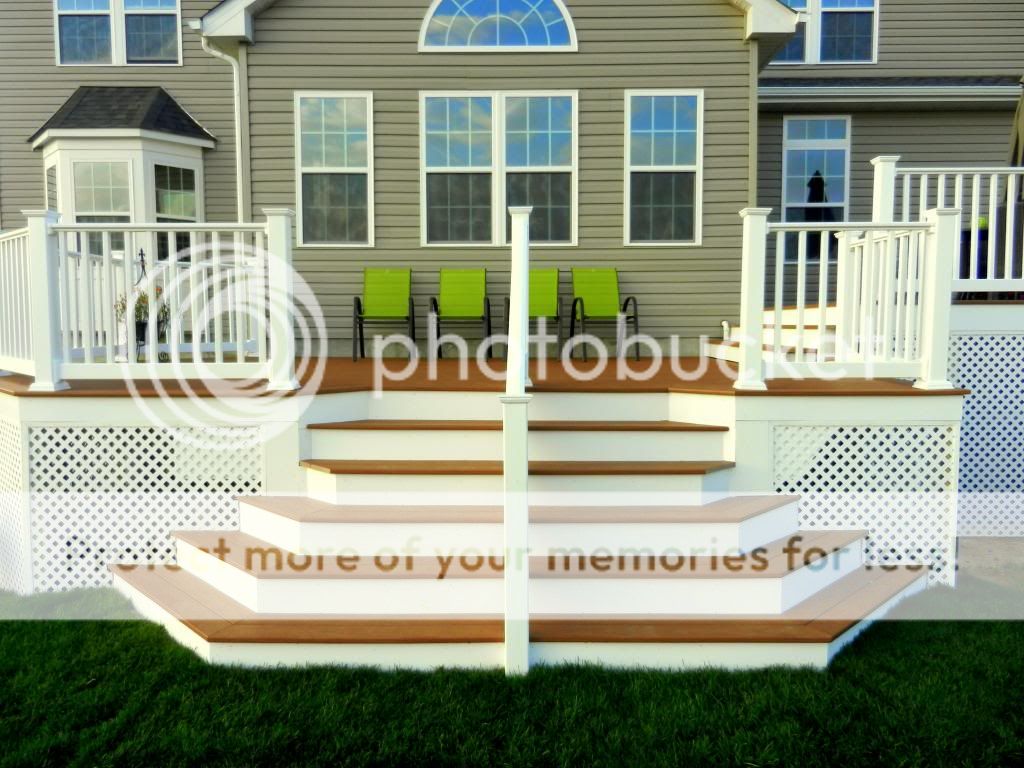 Q1. Your deck is pretty sweet.  How long did it take to build from start to finish?
In terms of chronological time, it took us about six months from start to finish.  However, we took off for three months over the winter and only worked (some) weekends. We had the footings poured by a contractor, then the framing took us about 5 full days to complete.  Then the drainage system, laying of the floor boards, railings, fascia and lattice took us about 5 weekends to complete.  The "wedding cake steps" took an entire weekend themselves to build (but it was totally worth it!).  The finishing touches actually are still not finished.  We still need finish some trim pieces around the steps and storage area.  Why does it always seem so hard to finish that last 1% of a project??  (You can see the final product with links to all of our status updates here).
Q2. How much money did you save building the deck yourself?
I estimate that we saved between $6,000 and $10,000 by building it ourselves.  Our builder was charging $11,800 for a 250 sf deck.  If you apply that square-foot price to our 480 square foot deck, it comes out to about $22,500 and it cost us about $12,000.  (You can find a complete cost breakdown of our materials here).  I should also note that we used much higher quality materials than the builder was offering.  I'm sure a contractor could have done it cheaper than our builder, but I would be willing to bet it still wouldn't be close to what we spent.  Outdoor living is expensive!
Q3. How did you decide on the layout and the two level configuration?
The layout we ultimately decided on was the 7th option I came up with (I can be indecisive with big decisions).  I looked at a lot of pictures online, and I knew I wanted two separate areas… one for dining and one for relaxing.  The reason for the two-level configuration was all based on the cascading steps, which were a must-have in my design from the start.  Because of how high our back door was from the ground (about 8 feet), if we didn't add the lower level we would have needed too many of the cascading steps to meet the ground and they would have been too wide for the front face of the deck.  By lowering the one section of the deck, we were able to get the perfect amount of cascading steps.  An unanticipated bonus of the two levels is that the wide steps between levels provides some extra seating when we have big crowds.
Q4. So the upper deck is attached to the house and the lower level is free standing?  Why not attach both?
Two reasons:  1). We wanted to avoid having to drill into the concrete foundation of our house.  The upper level ledger board attached directly to the wood base framing of the house, whereas the ledger board for the lower level would have had to attach to the foundation of the house.  2). We would have needed extra footings under the "bumped out" cantilevered part of the lower level anyway, so we decided just to pour a few more footings and make it free standing.
Q5.  You ended up making use of the space below your upper deck for storage.  How did you keep the water out?  Was your solution pricey?
So glad we did this!  The storage area under the upper level is big enough to store both of our lawnmowers and all of our outdoor furniture with room to spare.  There are two main types of deck drainage systems:  One is installed above the joists and the other is installed below the joists.  We knew we wanted an "above joist" system to maximize our storage height.  The two companies I found that sold this option were Trex Rain Escape and DekDrain.  We chose DekDrain beacuse:  1). It was cheaper.  It was about $1,000 for the whole system (for 240 sf).  Trex Rain Escapes is a little more sophisticated, but we didn't care about being fancy and were happy to save a few bucks.  And 2). You cannot buy Trex products directly from Trex and the two authorized dealers I spoke with had no clue what materials were required or how to install them.  Since we were first timers, I wanted to be sure we'd have adequate support if we ran into problems.  When I called DekDrain for information, their rep was super-helpful.  It helped that they were cheaper anyway, but I probably would have went with them even if they weren't.  In my opinion, you can't put a price on good customer service!
Q6. What was the most difficult part of the build process?
After deciding on our final design (which took about 3 months), I would say the most difficult part was the cascading steps.  We couldn't use standard stringers so we had to cut about 15 custom stringers.  There were a lot of calculations to get the right measurements and a lot of angle cuts because of the shape of steps.  It was a very tedious process, but I think the cascading steps totally make the deck, so it was worth it.  (It's also easy for me to say that since my dad did most of the work on the steps
).
Q7. Were there any setbacks or hiccups along the way that you didn't plan? How did you get through them?
When we got to the framing for the lower level, we realized the our down spout would be in the way of our beam so we had to move it.  It was not that difficult to do (you can see what we did here) and it was a very cheap fix, but it took us a few hours to complete so we lost some time there.  If we had thought about it when we were building, we probably could have gotten them to put it in the right place to begin with.  Our inspector was also pretty tough, but we just did the extra things he asked so we didn't have any problems.
Q8. Are you interested in building our deck?
Haha, sure!!  Do you have plans to build one soon?  In all seriousness, we'd be happy to help or answer any questions when you get to that point!
Thanks to Colette for her great answers.  If you are interested in contributing your challenging DIY or home improvement project for Your Home from Scratch, you can use the Contact form to shoot me an email.
Have a great week!
Posted by John on April 14th, 2014
Well it's been a couple months, but I've finally finished my latest set of free woodworking plans.  This time it's my simple router table.
I first built this simple router table when I was adding raised panel wainscoting to our dining room.  It's not perfect, but it's a lot better than those $100 tables you get from Sears or your hardware store.
Get the FREE plans for this project
Join our newsletter and be part of a community of DIYers and Home Improvement enthusiasts.
To get access to these free router table plans, simply subscribe to our free newsletter.
Posted by John on April 10th, 2014
Everybody loves saving money, right?  I don't think I've ever met someone that didn't.  If you are a reader of this blog, then you know that the best way to save money on any home project is to do it yourself.  Now we all know that isn't always possible.  Sometimes we just have to bite the bullet and hire a contractor.  That doesn't mean you're a lousy DIYer.  It's just a normal part of home ownership.
However, just because you have to hire a home improvement contractor, doesn't mean you have to get raked over the coals and overpay.  In fact, there are multiple steps you can take to ensure you save money every time you hire one.
Here are 7 Steps to Save Money Next Time You Hire a Contractor
1.  Define Your Project Scope.  No matter what home improvement project you have in store for your contractor, you need to put bookends on it.  You need to tell the contractor exactly how much work you need to have done and what to NOT have done.  Don't let the contractor determine the scope, because they are almost never going to try and get LESS work out of you.  More work equals more money.  Keep in mind though that sometimes you don't have much control over the scope, especially if more work IS required because of some unforeseen circumstance.  For example, you hire an electrician to add a ceiling light and he finds older knob and tube wiring that needs to be replaced, which raises the cost of the work.
2.  Ask for an Itemized List of the Job's Steps with Prices.  Don't accept a quote for a multi-stepped job that doesn't breakdown each major portion and the associated costs of each.  For example, if you are having your bathroom remodeled, there should be a cost for the demo, the flooring, the wiring, the plumbing, the vanity, the drywall work, the trim work, etc.  Each of those subtasks should have individual costs.  This cost and process breakout is crucial for you to have a clear understanding of both the scope and the steps required.
3.  Identify the Contractor's Pain Points.  Most specialized contractors will perform a variety of work that's outside their area of specialization.  Some electricians may occasionally HAVE to do some drywall work.  Some plumbers may occasionally HAVE to do some wiring.  It's just part of their job.  Doesn't mean they like doing it nor does it mean they are any good at it.  If that itemized list of tasks for your project contains items that your contractor isn't very good at, you can potentially cross it off the list and save those costs.
4.  Identify Steps you can DIY.  One great way to save some costs is to do those pain points yourself.  Most jobs require some amount of prep work like demo, painting, trim work or clean up afterwards.  Those are great opportunities for saving some money.
5.  Look for Steps you can Hire Out for Cheaper.  Even if you're not capable or interested in DIYing any of those pain points, you may be able to identify individual steps that can be done by other contractors for less money.  So if you're having that bathroom redone, maybe you can find a cheaper tile guy.  Redoing your kitchen lighting?  Maybe you can pick out your own fixtures and have a separate drywall contractor make any necessary patches.
6.  Ask for a Discount.  You won't get a break on the price unless you ask for one.  NEGOTIATE!  Tell the contractor that you have another quote for a little less, but you'd rather use them.  You'd be surprised how many will lower their price.  You also may be able to swing a discount if you have future work coming up.  You can use the current job as an audition for other offers.  You also could promise to give a detailed, quality review on Angie's List (affiliate link), if they're interested.
7.  Follow through on Your End.  If you offered to do some of the work yourself, if you offered to hire out a portion of the job or if you promised future work or a good Angie's List review, make sure you follow through.  Don't shoot yourself in the foot and spoil a good opportunity.  Don't burn your bridges with quality contractors.
Do you have any advice for saving money hiring contractors?  If so, I'd love to read them in the comments.
As always, if you think this post is helpful and worth reading, please share it.
Posted by John on April 7th, 2014
While things have been going really well in our home office improvement project, I've been slacking on the blog lately.  Mudding the walls three nights a week will do that to you.  Since I'm too busy (and sore) to write a new post, I thought this would be a great opportunity to roll out a new series I've been planning on starting for some time.  It's called YOUR Home from Scratch.  This is an opportunity for our friends, readers, subscribers and other bloggers to share their home improvement projects.
For our first edition, I'm excited to have Katie from Addicted 2 DIY.  Her and her husband recently completed work on a beautiful media console using plans from Anna White.  They modified the plans to make the console more appropriately sized for their space.  I used this post as an opportunity to ask Katie some questions to get some more details about her project.
Q1. Beautiful piece.  Nice work.  You used plans from Ana White, but resized them for your own space.  Was that difficult?  How did you go about modifying plans?
Thank you.  Yes, we had to modify the plans to not only fit our space, but also because we used rough cut lumber.  Modifying the plans was not too hard.  I basically took the original plans and determined which cuts needed to be lengthened and wrote down my own cut list.  The hardest part was remembering to take into account that the larger wood dimensions would also affect the cut measurements.
Q2. You used rough cut lumber instead of S4S from your local big hardware store.  Was this the first time you worked with rough cut lumber?  How did you like it?
This was our first time using rough cut lumber for an entire project.  I used rough cut lumber to make a butcher block top for a kitchen island I built for my mother (http://addicted2diy.com/2013/11/21/how-to-build-your-own-butcher-block/), but it is entirely different to build an entire piece with it.  It was definitely a little more work for us, because we ripped all of the boards down ourselves, but I definitely love the look so much more.  Not only is the wood from a lumber store completely dry (therefore alleviating any shrinkage of the wood), but it just has so much more substance.  I love the larger dimension to it.
Q3. I've never worked with Alder.  How was it?  Looks similar to Pine or Poplar.  You needed to use the pre-stain conditioner?
Alder is awesome to work with.  It's harder than pine, so we didn't have to worry as much about dings and knicks if we accidentally dropped a piece or a tool on it.  Knotty alder is also very affordable and it takes stain very much like pine.  I did use wood conditioner on it as I do on all staining projects.  The color looks no different than the farmhouse table we built in our dining room (http://addicted2diy.com/2013/11/04/diy-farmhouse-table-with-extensions/).  We are definitely hooked on this species of wood and plan to use it for many other furniture projects in the future.
Q4. Love the breadboard top.  Any reason why you went with that look instead of the standard plywood with hardwood wrap?
We wanted the whole console to look as much like the original console I fell in love with in the Pottery Barn catalog.  The breadboard top also coordinates with the farmhouse and entry console tables we built.  We have an open floor plan, so you see all three of those pieces at the same time and we wanted to have a cohesive look.
Q5. It's a substantial piece of furniture.  Is it a 2-person lift?
Yes!  It is definitely heavy.  I was actually a bit shocked at the weight, but my husband and I didn't have too difficult of a time getting it into the house.
Q6. The original Pottery Barn piece is $1300.  How much did you end up saving by building this yourself?
We saved about $900 building this ourselves.  That includes all of the hardware and we splurged on the bubbled glass for the cabinet doors. Definitely a huge savings when you consider the size of the console and the wood we used.
Q7. Are you planning on building any other projects soon?  What's in store for your home/blog?
I'm definitely planning other projects soon.  I really want to build some nice bedroom furniture for both of my boys.  Our house is always a work in progress and we've got plans to remodel our master bathroom hopefully in the near future.  I'll definitely be sharing all of my tutorials and experiences on my blog.
Big thanks to Katie from Addicted 2 DIY for sharing her experience with this awesome furniture build.
If you are interested in sharing your own home improvement project, shoot me an email using the contact form with your project or idea.  You don't need to be a blogger.
Posted by John on March 27th, 2014
In the past week or so, we started hanging drywall in our home office.  It's not a terribly quick process and it's been consuming a few hours a night.  Consequently, our post frequency has been low lately.  Whenever we're knee deep in home improvement projects, that sort of thing is going to happen.  Today, I want to share with you some general DIY advice for hanging drywall or sheetrock (if you call it that too).  This weekend we're going to be applying the first coats of joint compound and my goal is to put together a video tutorial for that process.
In other news, in last week's newsletter, I asked our readers to tell me what set of woodworking plans they'd like to see next.  The response was unanimous.  Everyone wants the router table plans.  Look for those next week.
Tips for Hanging Drywall
1.  Proper Framing.  The most important part of a quality drywall job, in my opinion.  The drywall gets secured to the framing lumber on the wall.  If that framing is incomplete, poorly done or didn't take the drywall into account, then the drywall is not going to be done well either.  Everywhere you have a seam in the drywall, which is everywhere one piece meets another, there should be a 2x piece behind it.  When we designed our coffered ceiling, I intentionally took the drywall into consideration and it wasn't an afterthought.  This may mean adding more boards than is required by framing code.
2.  Use the Right Drywall Thickness.  Drywall sheets come in 1/4″, 3/8″, 1/2″ and 5/8″ thick.  5/8″ thick is typically used for ceilings and is required for fire protection in certain spaces.  Our garage, for example, should have 5/8″ thick drywall throughout, but most of our interior walls probably just use the 1/2″.  The thinnest drywall, the 1/4″ sheets are mainly used on curved walls since it's not as rigid as the thicker material.  The 3/8″ sheets can also be used in place of the 1/2″ sheets in some situations.  You'll want to double check with the builder's code before you tackle a larger job to verify what thickness you should use.  Since we're covering over coffered ceiling framing that actually sits beneath a finished ceiling, we're just using 1/2″ thick drywall.
3.  Drywall Screws.  Use the right drywall screw length.  I mainly use the 1-1/4″ long coarse drywall screws, which don't go all the way through a 1-1/2″ thick 2×4.  Anything longer than that and I'd need to be aware of what's on the other side of the 2×4, since the screw can go through the board and make contact with anything on the other side.  Also, make sure to protect any electrical work with the appropriate cover plates so you don't accidentally drive a screw through a wire.  That would be bad.
4.  Drywall Driver.  This is my biggest pet peeve with drywall installation.  There is a special bit that you can buy for your drill that is specifically designed for installing screws into drywall.  It dimples the drywall board and sets the depth of the screw to just the right amount.  I pull the hair out of my head when I see people on TV (typically, Renovation Realities, go figure) using a regular Phillips head bit.  These drywall bits are majorly inexpensive.  I got 4 for $5 at Home Depot.  Don't work without them.
5.  Use Chalk Lines.  My chalk line tool is easily becoming my favorite tool on this office project.  So let's say I need a 5″ wide piece of drywall at some length.  I measure down 5″ from the edge of each side and then snap a chalk line down the entire length of the sheet from one end to the other so the 5″ mark is visible.  Then I just trace the line with my box cutter and I know I have a nice accurate piece.
6.  Use a Rasp.  The best way to get clean pieces of cut drywall is to use a hand held tool called a rasp.  The rasp is basically a cheese grater that you use to clean up the cut edge of a freshly cut piece of drywall.  It removes any high spots, smoothes out the cut and must be done before you throw the drywall sheet onto the wall.  It will help keep your drywall seams much tighter.
7.  Protect your Floors.  When you cut and rasp drywall, it gets all over everything in the space.  I protected our new hardwood office floor with some rosin paper I had left over from the floor install.  I prefer this over plastic as it doesn't move around and is much more durable. You can also use general construction paper since it's cheaper.  Don't skip this step though unless you're working right over the subfloor.
So that's all I got for hanging drywall.  I still need to add my corner beads all over this ceiling and I'll be starting my mudding process this weekend.  Good times.
Do you have anything to add to this list?  Have you every hanged drywall before?  What is the hardest part for you?