Posted by Lisa on July 24th, 2013
There's been a lot of new babies in our life lately. In April, we welcomed a new daughter, our second. Both of John's sisters are welcoming their first kids this summer and our neighbors just had their first last month. Our oldest daughter is around two and a half now and even though that still makes us fairly new parents, we feel like seasoned veterans. Gone are the days of fumbling through baby books, calling up our pediatrician once a month and scouring the internet for answers to "Is that normal? Do they all do that?" Instead, we've reached a level of confidence we never thought we'd get to and we got there fairly quickly. With all these new children in our lives and more than two years of bona-fide baby experience under our belts, we find ourselves doling out advice and recommendations regularly. The most frequent topic we discuss is one that had us frustrated for a few months ourselves after our first daughter was born. That topic, is of course, how to get a baby to sleep.
The holy grail of new parenthood, by far, has to be a solid night's sleep. While it can take several weeks or months of restless nights before newborns start sleeping more than two hours straight, there are some products that we use on a nightly basis that can help us and our daughter sleep longer.
(all Photos courtesy of Amazon.com)
1. Angelcare Baby Movement Monitor. This is the number one product we recommend to our family and friends with newborns. The monitor is a battery powered base that is connected via cable to a mouse pad sized plate that goes under a crib, cradle or bassinet mattress. The plate senses movement and relays that info to the base where it is either illuminated with a bright green LED or an audible clicking sound. The idea here is that if a baby stops moving or breathing, the base will emit an audible alarm. The motion sensing plate is sensitive enough to detect a baby's breathing and it features an adjustable sensitivity level. This product is pure peace of mind. It helped ease our worry over SIDS. The only down side is the base needs to be connected to the pad at all times and so it isn't mobile. It needs to stay within so many feet of the crib or cradle. The good news is, however, the alarm is so loud that it normally can be heard through the regular baby monitor. We leave ours on silent to avoid hearing the constant clicking sounds and when we want to check in on her while she's sleeping, we just look for the blinking green light. Perfect product for worriers like us.
2. Pillow Pets Dream Lites. These little stuffed animals have a mini planetarium on their back that shines a colorful night light onto the ceiling for maybe 20 or 30 minutes while the baby doses off to sleep. I'm not sure if newborns are even old enough to be afraid of the dark, but it can't hurt to leave a little night light on for them. Our daughter usually seems to fuss less if her pillow pet is on.
3. Cloud b Sound Machine Soother. Another stuffed animal. This one plays a white noise for several minutes until the baby falls asleep. There is an adjustable volume knob and four different white noise options that include rain, ocean, whales and mother's heartbeat. The only real concern I have with this product is that I miss it when we move our kids out of the bed side cradle and into the nursery. You may want to pick up one for yourself.
4. Swaddles. If we don't swaddle our infant, she doesn't sleep well. She tries to roll over or her arms and legs come perilously close to the crib slats. If she gets swaddled, she sleeps 8-10 hours a night, no lie.
5. Summer Infant Baby Touch Digital Video Monitor. Bottom line: you need one. There are a ton of baby monitor options out there and I urge you to shop around. This is the monitor we use in our home and it's worked out well so far. So why is there a baby monitor and a motion sensor on a list of products entitled "How to Get a Baby to Sleep"? These two particular items will help parents sleep more soundly knowing they have nearly full monitoring capability of their child. It works for us.
Always check with a Pediatrician for safe parenting practices and follow the manufacturers instructions for every baby product. Pediatricians are your best source for baby related recommendations and advice. Not every product or method will work with every baby, this is just what worked for us.
15 Can't Miss Pinterest Recipes
Posted by Lisa on June 27th, 2013
If you're anything like me, you have a huge Pinterest board loaded with mouth-watering recipes you have yet to try.  For the past few months I have been slowly making each recipe from my recipe board for a weeknight dinner. The result? Most were delicious and even one picky-eater approved (cough cough, John)!
Today I will share with you (in no particular order) 15 Pinterest dinner recipes we have tried and thought were delicious!  (P.S. follow us on Pinterest here!)
1. Easy Lemon Dijon Chicken – made this for dinner a few nights ago. It was a success. The lemon and dijon combo worked well together and we had leftovers to make chicken salad.  I even made chicken stock from scratch with the leftover chicken carcass afterwards.
2. One Pan Pasta – this recipe is delicious and super easy to make.  Added bonus: it's vegetarian.
3. Salsa Verde Chicken Tostadas – I love cooking chicken in the crock pot. It is so easy and makes perfect shredded chicken.  I served this dish with soft tacos instead of hard tostadas and it turned out fantastic.
4. Irish Beef and Stout Stew – made this stew for St. Patrick's Day this year. Yum!
5. Rigatoni with Broccoli and Sausage – this was an ideal one dish meal.  It has it all protein, starch, and vegetables rolled into one plate. It is super flavorful and freezes well (this was one freezer meal I made before the baby arrived!).
6. Chicken Curry – simple and flavorful chicken curry recipe in the crock pot. This one makes the house smell unbelievable!
7. Shrimp with Cous Cous – an easy one-dish meal that comes together very quickly (tip: use pre-cooked shrimp for an even faster meal prep).
8. Quinoa Chili – terrific recipe for vegetarian chili that is perfect for the cold winter months.
9. Better Than Take Out Chicken Fried Rice – the name doesn't lie!
10. Lemon Angel Hair with Chicken and Spinach – follow the recipe for amazing chicken and you'll have an impressive restaurant-style meal.
11. Freeze Ahead Lasagna Primavera – wonderful make-ahead meal that definitely qualifies as comfort food.. and it's packed with veggies.
12. Crock Pot Santa Fe Chicken – John loves this one.. lovely, flavorful chicken recipe.
13. Ham and Egg Crepe Squares – yes this is a breakfast/brunch recipe but we enjoy breakfast for dinner once in a while and this is a special treat. To make this meal even quicker and easier, buy store bought crepes.
14. Confetti Mac and Cheese – this is a favorite of our toddler and is an easy way to disguise vegetables.
15. Chicken and Biscuits Pot Pie – this yummy dish is filling and super delicious.
So there you have it – 15 Pinterest dinner recipes we've tried and given our stamp of approval.  While making this list, I noticed that most of my recipes are from Martha Stewart – this post was not sponsored by her, but I just love following her on Pinterest.  Enjoy!
What are some of your favorite Pinterest Recipes?
Posted by Lisa on May 1st, 2013
Hey, hey friends! Thanks for all the congratulations on baby number two.  Baby is doing great.  Today I am sharing a recipe my mom and I made a few days ago while she was here helping me with the kids: mini eclairs!
My mom used to make eclairs and cream puffs all the time when I was younger.  I mentioned that John and I went to our local coffee shop on Sunday after mass and he was bummed they didn't have any eclairs left.  She suggested we make them as a surprise.
Since we were making these during nap time, we used instant pudding mix to speed things along, but she usually makes her pudding from scratch.
The recipe we followed can be found here.  We did make one modification -we made mini eclairs instead of the larger ones the recipe calls for.  I like everything mini – I think desserts taste and look better the smaller they are.  Plus, bite size is fun size.  The baking time changes though if you make them smaller.  I baked the pastry for ten minutes at 450 degrees and then six minutes at 325 degrees. My batch made 27 mini eclairs.
Here's all the ingredients for homemade mini eclairs:
First, I made the pastry part of the eclair.  It was really simple.
Meanwhile, my mom prepared the pudding.
I used a ziploc bag with a large corner cut out as my pastry bag and squeezed out the dough onto a cookie sheet.
While the pastry was baking, my mom whipped the cream and folded it into the pudding mix.
After the pastry cooled it was time to gently slice the eclairs and filled with the pudding mixture.  I used a frosting spatula to fill the eclairs.  I would say I used about two tablespoonfuls for each eclair – no skimping here.  I should mention that there was a lot of filling left, so next time I would halve the pudding mixture (and I bet there would still be some leftover).
While I was filling, my mom made the chocolate icing. Once she removed it from the stovetop, I used a sugar spoon to ice the eclairs. This chocolate icing is so good!  I definitely licked the bowl after I was done icing.
The eclairs taste pretty good right away, but a few hours in the fridge makes all the flavors sing. These little gems are so delicious!  They were John approved inhaled and were a delicious dessert for after dinner.
These may be my new go-to dessert to share with family and friends.  Do you have a favorite dessert recipe you like to make with your mom or family?
Posted by Lisa on April 3rd, 2013
Hey there! I hope you enjoyed our last post about preparing for baby numero dos. With the finish line in sight, we're pretty much ready to go. I need to write a post about all the baby gear expectant parents need for a newborn and I'm hoping to share a little more in depth about my make-ahead meals later, like the recipes and such, but I can't make any promises. I'm hoping this baby shows up sooner than later!
Another necessary baby prep all nesting moms do is organize the nursery. Last weekend John completed some touch up paint and gave the nursery a deep clean (thanks!!). After that was complete, my mom and I cleaned the dresser drawers and washed all of the baby clothes. When we first set up the nursery for our daughter, I took the time to line every drawer with contact paper. I'm so glad I did that because this time around cleaning the drawers was a breeze. We used non-toxic baby surface wipes for the drawers and allowed them to air dry while we did all the baby laundry.
I organized each drawer to have a "theme" and tried my best to group like age times together (like clothes for 3 or 6 mo. old). Some items, like bedding for example, will be in the drawers temporarily until the baby comes home and we are ready to use the cradle and crib sheets. There's no use to put them on now because they'll just get dusty again. Also, I know once the baby arrives I will be tweaking the drawers since I will end up getting more clothes.
Here are some photos of the drawers in the nursery. We still owe you updated Nursery pics, but to be honest, it's not much different than the last time. Oh and btw, these photos were taken at night with my iPhone, so the quality isn't too great.
The top drawer of my changing table houses newborn diapers, wipes, and a cosmetic bag that has a baby brush, baby nail clippers, butt paste (there is such a thing), and lanolin. These are the essentials I like to keep near so I can grab an item with one hand if necessary.
I also have a drawer of washing essentials – all of my hooded towels and washcloths get placed together along with my changing pad covers.
The bottom drawer is filled with crib bedding. I have my mattress protector, waterproof pads, and multiple crib sheets tucked away nicely.
The top drawer of my tall dresser has baby socks, newborn hats, and my burp clothes and cotton bibs. I also have my activity mat in the back until I am ready to use it for baby tummy time.
Below that drawer are my long and short sleeve onsies, sized 0-3 month. I also have my 3-6 month onesies ready to go. Next to those are my gender neutral pajamas lined up as well as my printed onesie and pants. I have these items separated by fabric bins I bought a couple years ago at Ikea.
Next I have my cradle bedding, pack 'n play bedding, boppy covers, and swaddlers.
Last but not least are my baby blankets.
There you have it – a peek into our nursery drawers. Babies sure need a lot of linens n things!
Do you have any drawer organizing tips you want to share? Anyone else buried in baby clothes?

Posted by Lisa on March 17th, 2013
Happy St. Patrick's Day! We hope you had a good weekend! We were busy with "second baby preparations," which we will be sharing in the next few weeks, btw. We did get a chance to have a low key, but tasty St. Patty's day dinner!
First off, I made homemade honey butter at John's request. I've never had it, but it sounded good to me. I used Alton Brown's recipe for the ingredients, but just eyeballed the measurements. I used my Cuisinart hand mixer with the whisk attachment to cream the butter, honey, cinnamon, and vanilla extract. Then I placed the mixture in a small ramekin and let it chill in the refrigerator for a few hours. The honey butter was a great compliment to the store bought Irish soda bread.
For dinner, I made Martha Stewart's Irish Beef and Stout Stew. I halved the recipe and still had left overs for this week! This was a great tasting recipe and was very simple to make. John loves any kind of stew and this one was definitely a notch above my standard go-to stew recipe I make in the crock pot. This recipe is a keeper for sure.
For dessert we had chocolate cake with green frosting. Pretty straightforward so no pictures here. My personal preference would have been for a few shamrock shakes from MickyD's, but no one felt like running out of the house to fetch them, so I will have to wait until tomorrow! I don't know about you guys, but I love shamrock shakes. I have been drinking them since February and will continue to order them until all the McDonald's near me run out.
So that was our low key St. Patty's day celebration – what are your traditions?
Posted by Lisa on December 13th, 2012
Every year I make Christmas cookies with my mom. We've been making them together since I was a little kid with my grandmom. Since we've been married, I've also been putting together a cookie tray for John to take to his office Christmas party. We always make certain traditional Italian cookies and every year try out one or two new cookie recipes. Here's what we baked up this year…
1. Peanut Butter Blossoms. These are peanut butter cookies that are rolled into a ball, then rolled in suger, baked and while hot out of the oven, they are pressed down with a Hershey kiss. This isn't a family recipe or anything. You can see the actual recipe on Hershey's website.
2. Crispy Chocolate Chip Cookies. These are a thin, buttery, crispy, chocolate chip cookies that are my "go-to" chocolate chip cookies. Most chocolate chip cookie recipes I've seen make thicker, chewier cookies. That's fine if you like that, but I really like this crispy version. The recipe is Martha Stewart's daughter's and can be found here. This recipe makes 30 4-inch cookies, which are HUGE. I typically halve the recipe and make smaller sized cookies, say 2 or 3 inches in diameter.
3. Crescent Cookies. This is a traditional Italian cookie that my grandmother taught my mom to make way back in the day. She has been making them ever since. They are made with Pecans and are rolled in powdered sugar. Enuff said. Nom nom. I'm not sharing this recipe. Sorry!! Ancient family secret. 😉 I'm sure you can find something delicious online.
4. Spritzer Cookies. These are a cookie that was made by my grandmother. They are a lovely, light, buttery cookie that are decorated with sprinkles. You'll need a cookie press and various dies to make these. We always use the wreath and the Christmas tree and this year we tried the snowflake shape.
5. Raspberry Filled Linzer Sandwich Cookies. This is a new cookie we made this year and it's delicious! The only drawback is the recipe doesn't make a lot of cookies. We used the Wilton recipe that came with the Linzer cookie set. If you don't bake regularly, these cookies may be more challenging. They also take a lot of time. It's hard because you have to roll the dough out really thin, which makes transferring the dough to your cookie pan hard without cracking them. They're definitely worth the effort though! Here's a tip: Refrigerate them overnight for an even better taste.
< 6. Raspberry and Apricot Filled Thumbprint Cookies. These are my favorite Christmas cookies of all time. Period. It's not Christmas without me inhaling 2 dozen of these little gems. Once again, this is a family recipe, so I'm not sharing. There are plenty of thumbprint cookie recipes floating out there. They can be filled with just about any type of jam or dried fruit, but my personal favorite is seeded raspberry preserves dusted with confectioners' sugar. Ridic.
7. Sugar Cookies. These are basic sugar cookies that are rolled out and cut with Christmas themed cookie cutters. They are what we'll be leaving out for Santa and Rudolph on Christmas Eve. Any basic sugar cookie recipe will probably do fine.
So, this may be my favorite Christmas tradition and I'm still making some yet. If I do, I'll share those as well.
What are your Christmas culinary traditions? Do you bake something every year or do you cook?
Christmas Gifts for the Ladies
Posted by Lisa on November 20th, 2012
Hey hey! This time around I get to share with you my two cents on Christmas shopping for the ladies.
My parents and I have been midnight Black Friday shoppers since, well, Black Friday shopping started at 5am. Since we do the majority of our shopping then, I request lists from family in advance, so I can plan accordingly. This year I will be making a trip to a certain red retailer that opens at 9pm Thursday evening, which I am very excited for!
So here are my recommendations for Christmas gifts for the ladies – young and old!
1. Vera Bradley Turn Lock Wallet
From what I have seen on the web, this wallet packs a lot of punch for it's size. It's designed to hold a lot of cards, has a bill fold, a zipper pouch, and room for spare change. If you aren't familiar with Vera Bradley, she offers a variety of patterns and colors to excite anyone. One problem? Choosing the color and pattern that's right for you. My pick – Priscilla Pink (not shown).
2. Extreme Calendar/Planner
There's a few of these floating around these days. Maybe you've seen them. Erin Condren or May Books have some of my favorites. They are large keep-it-together date books used to remember events, plan meals, remember birthdays and much more. Check them out at the links above.
Yes I am a woman, and I am suggesting you purchase a gift card for a woman (is this almost as bad a suggesting a vacuum?). I know some may think gift cards aren't personal, however I really do like them. Ulta or Sephora has so much to offer: makeup, hair products, flat irons, and even salon services. Let her choose what she wants to buy at a store like this, I am sure she won't be disappointed. That is unless she is expecting a diamond engagement ring!!
4. Getting engaged!
Since I did bring up the pink elephant in the room, I think Christmas is a great time to get engaged. Although I am a little biased – John and I were engaged two days before Christmas! It was really sweet because we exchanged Christmas gifts before getting engaged so it was like having two Christmases! Great job, John!
5. Personalized stationary
Ok back to realistic gifts. I love the idea of giving personalized stationary. There are plenty of website that offer this. If you really want to splurge, why not add matching address labels as well?
6. Pajama Set
I'm talking about comfy pajamas here! You know, lounge wear. It's perfect for snowed in days to keep you warm and fashionable all at the same time.
This is a great smelling perfume and I have never met anyone who didn't like the scent. It is a little pricey so look around for free deals with this purchase at department stores (maybe a free cosmetic bag with purchase). If not, I have seen knock off versions, and they smell pretty close to the real deal.
If you have a special lady who likes to sew, or who is thinking about learning to sew, why not encourage her creativity with a sewing machine? I don't have one yet myself, but I'm thinking about getting one eventually.
9. Cookbooks
Yes! My suggestions would be any cook books from Martha Stewart, Ina Garten, or Rachael Ray. All three of these ladies offer great recipes.
10. Puffer Vest
Just about every store has an outerwear vest to offer. Why not pick up a fashionable vest for your loved one? It's sure to be a staple in her wardrobe for years.
11. Matching hat, gloves, and scarf set
Some stores will sell this gift as an all-in-one piece, or you can be adventurous and pick out your own ensemble. My suggestion – keep it neutral that way she can wear the set with any coat she already has.
So maybe John will pick me up a couple of the items on my own list! Wouldn't that be nice. It's probably why he had me write this post in the first place!
Are you planning on shopping on Black Friday? How about Cyber Monday? Do they still have that?
***Full disclosure: John and I are members of Amazon.com associates. If you purchase any of the items above, we get a small kickback. If you're interested in joining Amazon Associates, go to Affiliate-Program.Amazon.com ***
Posted by Lisa on November 14th, 2012
Hey hey! Can you believe Turkey Day is a week away? I feel like Halloween was just last week! Wait a sec, if you live in New Jersey, then Halloween may have been celebrated last week. Time is really flying by. Good ole Saint Nicholas will here before we all know it (or have time to shop and decorate!). I am thinking about decorating for Christmas before Thanksgiving. I usually wait a week or two after, but I am thinking about changing it this year – do any of you decorate early?
With the big day fast approaching, many shopping trips to the grocery store have already occurred and at least one more is needed for next week to pick up my fresh grocery items needed for my recipes.
We aren't hosting Thanksgiving this year, but we do plan on making our own Thanksgiving meal Friday for extra leftovers and to refuel from Black Friday shopping. Here is our traditional Thanksgiving menu (all from scratch):
– Turkey, oven roasted
– Dressing/Stuffing, cooked outside of the bird
– Sweet potato casserole with marshmallows
– Mashed potatoes
– Cranberry sauce
– Green bean casserole
– Dinner rolls
– Pumpkin pie
My favorite part of Thanksgiving dinner are the sides, we could definitely skip the turkey, but then John couldn't make Turkey BLT sandwiches!
Here are some pics of Thanksgivings past for your enjoyment.
2009, in our old home:
My first cooked turkey!
The tablescape.
I loved those DIY tea light pumpkins. All I did was carve the tops of by Jack-be-little pumpkins to fit a tea light, and voila – a beautiful candle holder!
2010, John and Lisa plus one at my parents' house:
2011, in the new house:
Pumpkin candle, take two.
What are your Thanksgiving traditions?? Are you hosting it this year or are you going to a friend or relative's house?

Pinterest Challenge : Rice Crispy Treats
Posted by Lisa on October 29th, 2012
Hey everybody! So Hurricane Sandy hasn't been too bad, although it actually hasn't hit land by the time I'm writing this. We'll fill you in on Wednesday or Thursday if we have any weather related issues. Hope everyone affected is doing well.
If this Pinterest Challenge post seems a little familiar it's because I posted this recipe not too long ago. Back in May, I made cake batter rice crispy treats for a little Philadelphia Flyers get together for the play-offs.
Our daughter just had a Halloween party at her toddler dance class so I decided to whip up a version of these yummy treats to share with the other kids. The recipe and the instructions are identical to the Flyer's treats and can be found here.
The original pin is from this photo, which is on the same site as the recipe: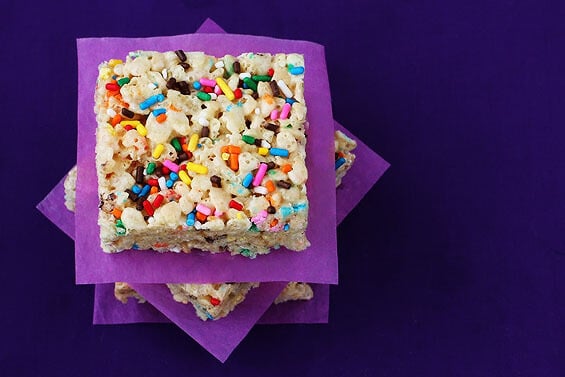 This time, instead of placing the treats in a pie pan, I molded the treats in a 9×13″ glass pan and then I turned the mixture out between two pieces of wax paper and used my rolling pin to flatten out the treats a little more.
Once the mixture was rolled out I used a pumpkin cookie cutter sprayed with Pam to cut the treats out. You can't let the treats cool too much or it will be too hard to use the cookie cutter. I also sprayed the cookie cutter after each use since the mixture was really sticky and gooey. After letting the treats harden on the wax paper for about an hour, I placed each piece in a glycine treat bag and wrapped them with an orange bow.
The party was a lot of fun and the kids enjoyed all the homemade treats and a lot of candy was shared. I hope you decide to make this recipe to share with friends and family – it's really easy and is a simple twist on a classic treat.
Hope everyone stays safe and dry!
Posted by Lisa on October 18th, 2012
Hey guys!  I hope you all had a great week so far.  It's almost Friday, so I thought I would share some of my favorite cleaning items!
Cleaning for the most part is a chore for John and I – I do like organizing so that counts as cleaning, right? I have tried keeping up with a daily cleaning list but after a first few days I get so proud that I cleaned for three days straight that I reward myself with some days off… haha!  Two places that are always clean are my kitchen and bathrooms.  Most of the cleaning products help me with those daily chores.
My favorite cleaning product by far is Dr. Bronners.  There is about 29,763 uses for this cleaner.  I love it for making my own counter top spray, foaming hand soap, and to remove stains from fabrics.  It's extremely safe – you can even brush your teeth with it! – and that's why I love using it, especially around the little one.  Dr. Bronner's also comes in different scents.  I currently have the scent-free (labeled as Baby Mild), Tea Tree (good for disinfecting), and peppermint.  Seriously, you can make anything with this stuff – laundry detergent, shampoo, soaps, sprays, and disinfectants.
Another product I like is anything from the Method line, which is sold in a variety of stores, but I buy mine at Target.  I really like their Grapefruit counter top spray.  I usually make my own, but when the Method grapefruit is on sale, I usually pick up a bottle or two.  The smell is a great grapefruit scent and I love everything citrus, especially in the kitchen!  If you have granite counter tops, Method has a great daily granite cleaner as well.  It makes our faux granite/laminate super shiny and smells great too!
Nature's Miracle is the product I use when there are stains from either animals or humans on the carpet.  If you have pets, you know they sometimes have accidents and they're just too cute to be mad at.  Nature's miracle helps kill the odor and removes the stains of whatever you pet has left on the carpet.
Dusting and polishing is super easy with Murphy's Oil Soap wipes.  I like the wipes since they let me dust and polish in one step, which makes this dreaded chore done a lot quicker. When I have the time, I also use the original Murphy's Oil Soap mixed with water to clean my cabinets – I love the way they look after they've been washed.
My favorite two items to clean the floors in our home are the Haan and my Dirt Devils (yes that is plural, I will explain).  I use the Haan floor steamer and sweeper on the hardwood floors and tiles.  I love using the Haan because it sanitizes the floors without any harsh chemicals.  Also, you reuse the cleaning pads and they can be washed in the washing machine.  In the kitchen I use the super lightweight Dirt Devil to clean under the cabinets and under the table every couple of days to pick up crumbs.  I also use it on our area rug in the living room.  On the stairs, I use a small handheld Dirt Devil to vacuum the carpets.  Upstairs, I use the traditional Dirt Devil vacuum for the bedrooms and closets.
So that's it – just a few of my favorite cleaning products that help me get cleaning done quicker.  I do want to mention that I am not being compensated for any of these products, they're really just my favorites!
Have any cleaning products you love and want to share!?