Your Home from Scratch
Your Home from Scratch #4: Andrea's Custom Vanity
Posted by John on May 27th, 2014
If you ask me what I enjoy the ABSOLUTE MOST about blogging, my answer is always helping others with their home projects.   Hands down the best part of this gig.  I love getting comments or emails from readers expressing their gratitude for something they found on our site.  Really makes my day.  Just last week, one of our newsletter subscribers emailed me some pictures of her custom bathroom vanities she built from scratch.  She told me that she was able to complete the task after reading our TV stand series.  I was so impressed with her work that we're featuring her vanities as our 4th installment of Your Home from Scratch.
You guys.  Wait to you see these cabinets.
Andrea's Custom Vanity
1.  Your vanities are beautiful.  Why did you decide to build them instead of buying them?
Thanks for inviting me to share in your blog!  I decided to try to build these vanities after pricing ones that I really loved and found them over-the-top expensive for the value and quality of construction.  For the double sink vanity prices were $1000 +, the single vanity $700+ – add on tax and shipping and that was the deal breaker.  Also, I wanted my mirrors and vanities to match.
2.  How much money do you think you saved by building them yourself?
Assuming I bought the two vanities mentioned above at $1800, minus my supplies $300 (?), I guess I saved about $1500.  

3.  How long did it take you to build and did you have much carpentry experience before you started?
It took me 1 month of on-and-off work while carpenters did complicated bath renovation including moving walls, plumbing and electric.  My only other carpentry experience comes from building a step back cupboard a few years ago.  I had a picture from an antique catalog, so I started by drawing a picture on the wall where I wanted it to be to get the starting dimensions and then drew up plans on graph paper.  Oh, I am also building my 2nd canoe.
4.  Give us a quick overview of how you built them.  Did you use roughly the same build method as our TV stand?  What material?
I built the first single vanity using your plans for the entertainment cabinet.  I figured out the width dimensions first and built the face frame.  I did want the cabinet to sit on Shaker legs to appear as a piece of furniture, so I extended the right and left vertical face frame pieces to extend about 3″ below the lower horizontal piece. I used poplar wood as you suggested, along with cabinet grade birch veneer plywood for sides, base and shelves.  For the second, larger double sink vanity, I again determined the width first.  I knew I wanted 3 doors so I evenly spaced them and repeated the same steps as the first vanity.
5.  What sort of finish product did you use (Latex paint, acrylic, lacquer)?
As far as the finish,  I again used your advice of applying 2 coats of latex primer and 2 coats of latex paint.  I got the most perfect finish using a velour covered, small roller from Sherwin Williams.  The finish is so perfect that it looks factory applied.  I was very pleased with this roller finish.  I did lightly sand between coats.  Beautiful.
6.  What was the hardest part of the project?
The hardest part of the project was becoming familiar and comfortable with using the radial arm saw, skill saw, table saw and biscuit jointer  (affiliate) ( I don't have a router set-up).  I am a real safety freak, so I took this part very seriously.  I am really alone on all these projects, so your quick response to my hardware questions, etc. was a big confidence builder – like, I had a big brother that was just a email away!
7.  What are you planning on building next?
I am planning on building a second mirror/cabinet for above the first single vanity.  I have gained so much satisfaction from this project that I know I can do just about anything just taking it one step at a time.  Thanks again, John.
Thanks to Andrea for sharing this incredible home improvement project.  If you have a home improvement project that you'd like to share with our readers, shoot me an email: John at Our Home from Scratch dot com.
Your Home from Scratch #3: Bobbi's Sweet Router Table
Posted by John on May 1st, 2014
In this week's installment of Your Home from Scratch, we're showing off Bobbi's beautiful router table.  It's perfect timing since we just released our own set of free router table plans, although my table isn't even in the same ballpark as Bobbi's.
Bobbi is one of our newsletter subscribers and I was excited when she offered to share her finished project.  As part of this series, I asked Bobbi a bunch of questions about her table and her answers are below.
1.  What material did you use to build the router table?
The cabinet is 3/4" Baltic Birch plywood, the drawers are 1/2" Baltic Birch plywood, the top is 1-1/2" thick with a laminate on the top and bottom and edge banded in walnut and the drawer pulls are walnut.
2.  Did you work from a set of plans?
I took the Routers and Router Table class at Cerritos College (http://cms.cerritos.edu/woodworking/) and this was the design from the teacher.  We did work from his plans and instructions.
3.  How long did it take you to complete?
This was an 18 week class, meeting for four hours twice a week.  We would usually have an hour lecture/demonstration and then work on our tables.  At the end of the 18 weeks everyone had a completed router table.
4.  What was the finishing process like, did you use polyurethane?
I chose to put a clear Shellac finish on my table, but most of the other students just left their's raw wood. 
5.  How in the world did you make those drawer/door fronts and handles?
Ok, aren't those drawer pulls just too cool?  I was so excited to get to make them.  Our instructor had four different jigs (the Jig & Fixtures class is another super great class at Cerritos College) that we used to make them.  Without pictures of the jigs, I could never begin to explain how we did it.  But, we used one jig with the oscillating spindle sander to make the finger pull in the plywood front and three different jigs at a router table to make the pulls.  It was surprisingly easy and fun.  Sorry, I can't explain the process.
6.  Have you had a chance to use it for any projects yet?  What home projects are you planning on using it for?
I've used the table many times and I get so excited every time I need to use it.  I made nightstands that required a lot of router work.  My next project is to remake some mirror closet doors.
7. Can anyone build a table like this or do you think the skills you needed were fairly advanced?
We had all levels of woodworkers in our class and everyone came out with a very nice router table.  I do think if someone was just given the plans to build on their own in their own shop they would probably need to be a fairly advanced woodworker.
Thanks to Bobbi for sharing this awesome router table.  If you have a home improvement or DIY project you'd like to share with our readers, just shoot me an email: John at ourhomefromscratch dot com.
Your Home from Scratch #2: Colette's Amazing Deck
Posted by John on April 17th, 2014
Today we're exited to bring you another edition of Your Home from Scratch.  If this is your first time to our site, Your Home from Scratch is a new series where we interview our readers and other bloggers to bring you their challenging home improvement projects.  Last week in our first Your Home from Scratch post we interviewed Katie from Addicted 2 DIY.  Today we're talking to Colette from Moving to the Country about her new deck, which her and her family built from scratch.
What makes this project extra interesting for Lisa and I is Colette and her husband have nearly the exact same home as we do.  We both own Courtland models from Ryan Homes, although we live in different towns.  So Colette's deck project is the perfect primer for our outdoor plans.
Colette's Amazing Deck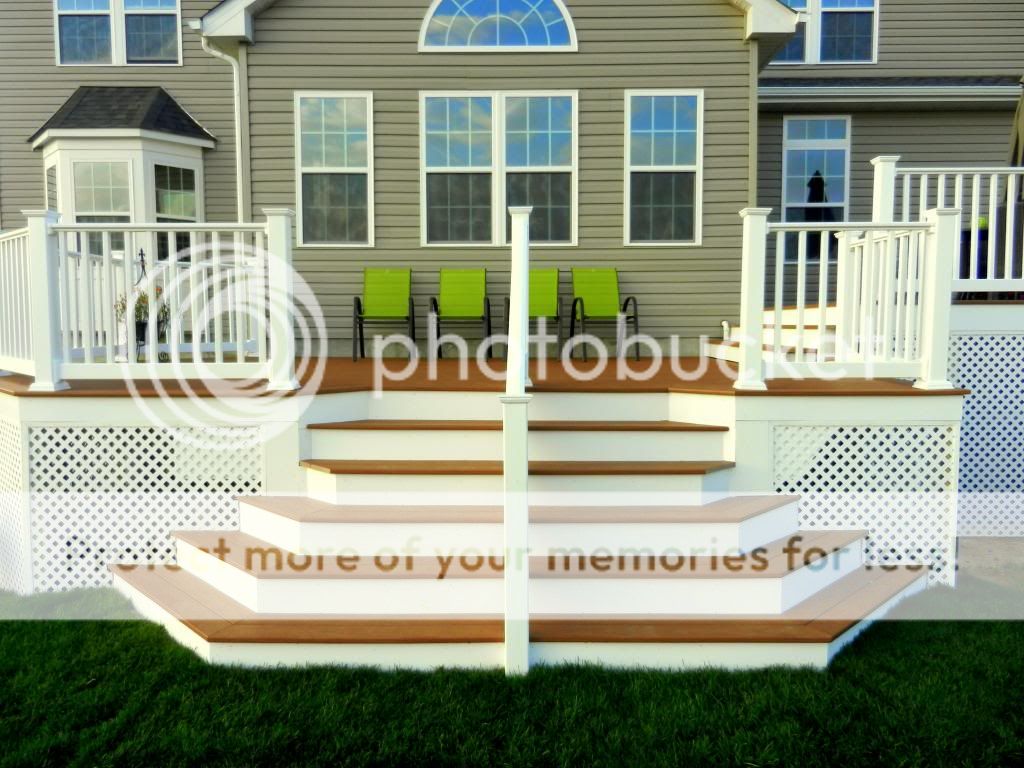 Q1. Your deck is pretty sweet.  How long did it take to build from start to finish?
In terms of chronological time, it took us about six months from start to finish.  However, we took off for three months over the winter and only worked (some) weekends. We had the footings poured by a contractor, then the framing took us about 5 full days to complete.  Then the drainage system, laying of the floor boards, railings, fascia and lattice took us about 5 weekends to complete.  The "wedding cake steps" took an entire weekend themselves to build (but it was totally worth it!).  The finishing touches actually are still not finished.  We still need finish some trim pieces around the steps and storage area.  Why does it always seem so hard to finish that last 1% of a project??  (You can see the final product with links to all of our status updates here).
Q2. How much money did you save building the deck yourself?
I estimate that we saved between $6,000 and $10,000 by building it ourselves.  Our builder was charging $11,800 for a 250 sf deck.  If you apply that square-foot price to our 480 square foot deck, it comes out to about $22,500 and it cost us about $12,000.  (You can find a complete cost breakdown of our materials here).  I should also note that we used much higher quality materials than the builder was offering.  I'm sure a contractor could have done it cheaper than our builder, but I would be willing to bet it still wouldn't be close to what we spent.  Outdoor living is expensive!
Q3. How did you decide on the layout and the two level configuration?
The layout we ultimately decided on was the 7th option I came up with (I can be indecisive with big decisions).  I looked at a lot of pictures online, and I knew I wanted two separate areas… one for dining and one for relaxing.  The reason for the two-level configuration was all based on the cascading steps, which were a must-have in my design from the start.  Because of how high our back door was from the ground (about 8 feet), if we didn't add the lower level we would have needed too many of the cascading steps to meet the ground and they would have been too wide for the front face of the deck.  By lowering the one section of the deck, we were able to get the perfect amount of cascading steps.  An unanticipated bonus of the two levels is that the wide steps between levels provides some extra seating when we have big crowds.
Q4. So the upper deck is attached to the house and the lower level is free standing?  Why not attach both?
Two reasons:  1). We wanted to avoid having to drill into the concrete foundation of our house.  The upper level ledger board attached directly to the wood base framing of the house, whereas the ledger board for the lower level would have had to attach to the foundation of the house.  2). We would have needed extra footings under the "bumped out" cantilevered part of the lower level anyway, so we decided just to pour a few more footings and make it free standing.
Q5.  You ended up making use of the space below your upper deck for storage.  How did you keep the water out?  Was your solution pricey?
So glad we did this!  The storage area under the upper level is big enough to store both of our lawnmowers and all of our outdoor furniture with room to spare.  There are two main types of deck drainage systems:  One is installed above the joists and the other is installed below the joists.  We knew we wanted an "above joist" system to maximize our storage height.  The two companies I found that sold this option were Trex Rain Escape and DekDrain.  We chose DekDrain beacuse:  1). It was cheaper.  It was about $1,000 for the whole system (for 240 sf).  Trex Rain Escapes is a little more sophisticated, but we didn't care about being fancy and were happy to save a few bucks.  And 2). You cannot buy Trex products directly from Trex and the two authorized dealers I spoke with had no clue what materials were required or how to install them.  Since we were first timers, I wanted to be sure we'd have adequate support if we ran into problems.  When I called DekDrain for information, their rep was super-helpful.  It helped that they were cheaper anyway, but I probably would have went with them even if they weren't.  In my opinion, you can't put a price on good customer service!
Q6. What was the most difficult part of the build process?
After deciding on our final design (which took about 3 months), I would say the most difficult part was the cascading steps.  We couldn't use standard stringers so we had to cut about 15 custom stringers.  There were a lot of calculations to get the right measurements and a lot of angle cuts because of the shape of steps.  It was a very tedious process, but I think the cascading steps totally make the deck, so it was worth it.  (It's also easy for me to say that since my dad did most of the work on the steps 🙂 ).
Q7. Were there any setbacks or hiccups along the way that you didn't plan? How did you get through them?
When we got to the framing for the lower level, we realized the our down spout would be in the way of our beam so we had to move it.  It was not that difficult to do (you can see what we did here) and it was a very cheap fix, but it took us a few hours to complete so we lost some time there.  If we had thought about it when we were building, we probably could have gotten them to put it in the right place to begin with.  Our inspector was also pretty tough, but we just did the extra things he asked so we didn't have any problems.
Q8. Are you interested in building our deck? 😉
Haha, sure!!  Do you have plans to build one soon?  In all seriousness, we'd be happy to help or answer any questions when you get to that point!
Thanks to Colette for her great answers.  If you are interested in contributing your challenging DIY or home improvement project for Your Home from Scratch, you can use the Contact form to shoot me an email.
Have a great week!
Your Home from Scratch #1: Pottery Barn Inspired Media Console
Posted by John on April 7th, 2014
While things have been going really well in our home office improvement project, I've been slacking on the blog lately.  Mudding the walls three nights a week will do that to you.  Since I'm too busy (and sore) to write a new post, I thought this would be a great opportunity to roll out a new series I've been planning on starting for some time.  It's called YOUR Home from Scratch.  This is an opportunity for our friends, readers, subscribers and other bloggers to share their home improvement projects.
For our first edition, I'm excited to have Katie from Addicted 2 DIY.  Her and her husband recently completed work on a beautiful media console using plans from Anna White.  They modified the plans to make the console more appropriately sized for their space.  I used this post as an opportunity to ask Katie some questions to get some more details about her project.
Q1. Beautiful piece.  Nice work.  You used plans from Ana White, but resized them for your own space.  Was that difficult?  How did you go about modifying plans?
Thank you.  Yes, we had to modify the plans to not only fit our space, but also because we used rough cut lumber.  Modifying the plans was not too hard.  I basically took the original plans and determined which cuts needed to be lengthened and wrote down my own cut list.  The hardest part was remembering to take into account that the larger wood dimensions would also affect the cut measurements.
Q2. You used rough cut lumber instead of S4S from your local big hardware store.  Was this the first time you worked with rough cut lumber?  How did you like it?
This was our first time using rough cut lumber for an entire project.  I used rough cut lumber to make a butcher block top for a kitchen island I built for my mother (http://addicted2diy.com/2013/11/21/how-to-build-your-own-butcher-block/), but it is entirely different to build an entire piece with it.  It was definitely a little more work for us, because we ripped all of the boards down ourselves, but I definitely love the look so much more.  Not only is the wood from a lumber store completely dry (therefore alleviating any shrinkage of the wood), but it just has so much more substance.  I love the larger dimension to it.
Q3. I've never worked with Alder.  How was it?  Looks similar to Pine or Poplar.  You needed to use the pre-stain conditioner?
Alder is awesome to work with.  It's harder than pine, so we didn't have to worry as much about dings and knicks if we accidentally dropped a piece or a tool on it.  Knotty alder is also very affordable and it takes stain very much like pine.  I did use wood conditioner on it as I do on all staining projects.  The color looks no different than the farmhouse table we built in our dining room (http://addicted2diy.com/2013/11/04/diy-farmhouse-table-with-extensions/).  We are definitely hooked on this species of wood and plan to use it for many other furniture projects in the future.
Q4. Love the breadboard top.  Any reason why you went with that look instead of the standard plywood with hardwood wrap?
We wanted the whole console to look as much like the original console I fell in love with in the Pottery Barn catalog.  The breadboard top also coordinates with the farmhouse and entry console tables we built.  We have an open floor plan, so you see all three of those pieces at the same time and we wanted to have a cohesive look.
Q5. It's a substantial piece of furniture.  Is it a 2-person lift?
Yes!  It is definitely heavy.  I was actually a bit shocked at the weight, but my husband and I didn't have too difficult of a time getting it into the house.
Q6. The original Pottery Barn piece is $1300.  How much did you end up saving by building this yourself?
We saved about $900 building this ourselves.  That includes all of the hardware and we splurged on the bubbled glass for the cabinet doors. Definitely a huge savings when you consider the size of the console and the wood we used.
Q7. Are you planning on building any other projects soon?  What's in store for your home/blog?
I'm definitely planning other projects soon.  I really want to build some nice bedroom furniture for both of my boys.  Our house is always a work in progress and we've got plans to remodel our master bathroom hopefully in the near future.  I'll definitely be sharing all of my tutorials and experiences on my blog.
Big thanks to Katie from Addicted 2 DIY for sharing her experience with this awesome furniture build.
If you are interested in sharing your own home improvement project, shoot me an email using the contact form with your project or idea.  You don't need to be a blogger.