Baking
Posted by Lisa on May 1st, 2013
Hey, hey friends! Thanks for all the congratulations on baby number two.  Baby is doing great.  Today I am sharing a recipe my mom and I made a few days ago while she was here helping me with the kids: mini eclairs!
My mom used to make eclairs and cream puffs all the time when I was younger.  I mentioned that John and I went to our local coffee shop on Sunday after mass and he was bummed they didn't have any eclairs left.  She suggested we make them as a surprise.
Since we were making these during nap time, we used instant pudding mix to speed things along, but she usually makes her pudding from scratch.
The recipe we followed can be found here.  We did make one modification -we made mini eclairs instead of the larger ones the recipe calls for.  I like everything mini – I think desserts taste and look better the smaller they are.  Plus, bite size is fun size.  The baking time changes though if you make them smaller.  I baked the pastry for ten minutes at 450 degrees and then six minutes at 325 degrees. My batch made 27 mini eclairs.
Here's all the ingredients for homemade mini eclairs:
First, I made the pastry part of the eclair.  It was really simple.
Meanwhile, my mom prepared the pudding.
I used a ziploc bag with a large corner cut out as my pastry bag and squeezed out the dough onto a cookie sheet.
While the pastry was baking, my mom whipped the cream and folded it into the pudding mix.
After the pastry cooled it was time to gently slice the eclairs and filled with the pudding mixture.  I used a frosting spatula to fill the eclairs.  I would say I used about two tablespoonfuls for each eclair – no skimping here.  I should mention that there was a lot of filling left, so next time I would halve the pudding mixture (and I bet there would still be some leftover).
While I was filling, my mom made the chocolate icing. Once she removed it from the stovetop, I used a sugar spoon to ice the eclairs. This chocolate icing is so good!  I definitely licked the bowl after I was done icing.
The eclairs taste pretty good right away, but a few hours in the fridge makes all the flavors sing. These little gems are so delicious!  They were John approved inhaled and were a delicious dessert for after dinner.
These may be my new go-to dessert to share with family and friends.  Do you have a favorite dessert recipe you like to make with your mom or family?
Pinterest Challenge : Rice Crispy Treats
Posted by Lisa on October 29th, 2012
Hey everybody! So Hurricane Sandy hasn't been too bad, although it actually hasn't hit land by the time I'm writing this. We'll fill you in on Wednesday or Thursday if we have any weather related issues. Hope everyone affected is doing well.
If this Pinterest Challenge post seems a little familiar it's because I posted this recipe not too long ago. Back in May, I made cake batter rice crispy treats for a little Philadelphia Flyers get together for the play-offs.
Our daughter just had a Halloween party at her toddler dance class so I decided to whip up a version of these yummy treats to share with the other kids. The recipe and the instructions are identical to the Flyer's treats and can be found here.
The original pin is from this photo, which is on the same site as the recipe: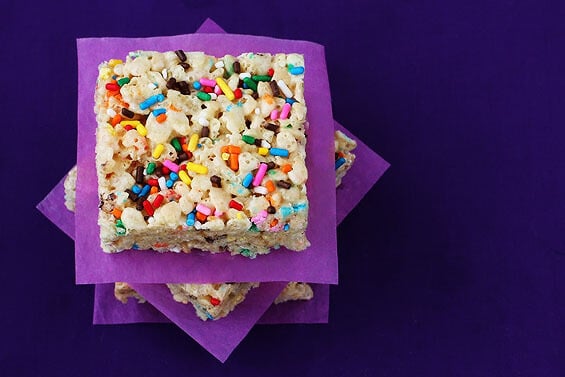 This time, instead of placing the treats in a pie pan, I molded the treats in a 9×13″ glass pan and then I turned the mixture out between two pieces of wax paper and used my rolling pin to flatten out the treats a little more.
Once the mixture was rolled out I used a pumpkin cookie cutter sprayed with Pam to cut the treats out. You can't let the treats cool too much or it will be too hard to use the cookie cutter. I also sprayed the cookie cutter after each use since the mixture was really sticky and gooey. After letting the treats harden on the wax paper for about an hour, I placed each piece in a glycine treat bag and wrapped them with an orange bow.
The party was a lot of fun and the kids enjoyed all the homemade treats and a lot of candy was shared. I hope you decide to make this recipe to share with friends and family – it's really easy and is a simple twist on a classic treat.
Hope everyone stays safe and dry!
Posted by Lisa on July 15th, 2011
Our neighbors invited the entire neighborhood over for a pool party – awesome! So to show our appreciation I decided to whip up a batch of mini easy cupcakes on a whim.  NBD.  I got both the cake batter and icing recipe from Cooks.com – what a great site!  Finding a recipe was tricky since I didn't have time to go to the supermarket.
I had to make one modification to the cake batter recipe – I used skim milk instead of buttermilk.  Being a regular baker I do not advocate such things unless it is necessary.
While the cupcakes were cooling, I made the icing:
Then I used the magic ziplock bag method to ice the cupcakes..  and viola!
The finished project:
Mini cupcakes are one of my favorites because they can be eaten in one bite!
Yumm.. now I have to make sure I save some for my neighbors.