Cooking
15 Can't Miss Pinterest Recipes
Posted by Lisa on June 27th, 2013
If you're anything like me, you have a huge Pinterest board loaded with mouth-watering recipes you have yet to try.  For the past few months I have been slowly making each recipe from my recipe board for a weeknight dinner. The result? Most were delicious and even one picky-eater approved (cough cough, John)!
Today I will share with you (in no particular order) 15 Pinterest dinner recipes we have tried and thought were delicious!  (P.S. follow us on Pinterest here!)
1. Easy Lemon Dijon Chicken – made this for dinner a few nights ago. It was a success. The lemon and dijon combo worked well together and we had leftovers to make chicken salad.  I even made chicken stock from scratch with the leftover chicken carcass afterwards.
2. One Pan Pasta – this recipe is delicious and super easy to make.  Added bonus: it's vegetarian.
3. Salsa Verde Chicken Tostadas – I love cooking chicken in the crock pot. It is so easy and makes perfect shredded chicken.  I served this dish with soft tacos instead of hard tostadas and it turned out fantastic.
4. Irish Beef and Stout Stew – made this stew for St. Patrick's Day this year. Yum!
5. Rigatoni with Broccoli and Sausage – this was an ideal one dish meal.  It has it all protein, starch, and vegetables rolled into one plate. It is super flavorful and freezes well (this was one freezer meal I made before the baby arrived!).
6. Chicken Curry – simple and flavorful chicken curry recipe in the crock pot. This one makes the house smell unbelievable!
7. Shrimp with Cous Cous – an easy one-dish meal that comes together very quickly (tip: use pre-cooked shrimp for an even faster meal prep).
8. Quinoa Chili – terrific recipe for vegetarian chili that is perfect for the cold winter months.
9. Better Than Take Out Chicken Fried Rice – the name doesn't lie!
10. Lemon Angel Hair with Chicken and Spinach – follow the recipe for amazing chicken and you'll have an impressive restaurant-style meal.
11. Freeze Ahead Lasagna Primavera – wonderful make-ahead meal that definitely qualifies as comfort food.. and it's packed with veggies.
12. Crock Pot Santa Fe Chicken – John loves this one.. lovely, flavorful chicken recipe.
13. Ham and Egg Crepe Squares – yes this is a breakfast/brunch recipe but we enjoy breakfast for dinner once in a while and this is a special treat. To make this meal even quicker and easier, buy store bought crepes.
14. Confetti Mac and Cheese – this is a favorite of our toddler and is an easy way to disguise vegetables.
15. Chicken and Biscuits Pot Pie – this yummy dish is filling and super delicious.
So there you have it – 15 Pinterest dinner recipes we've tried and given our stamp of approval.  While making this list, I noticed that most of my recipes are from Martha Stewart – this post was not sponsored by her, but I just love following her on Pinterest.  Enjoy!
What are some of your favorite Pinterest Recipes?
Posted by John on March 25th, 2013
Hey guys!  First off, yesterday was Lisa's birthday.  She's turned 25 again.  It wouldn't be appropriate to tell you how many times she's turned 25, so let's just stick with 25.  To celebrate, we drove to Delaware to get Mexican for dinner.  There aren't any good places near us unfortunately.  Although Delaware isn't too far from us anyway.
In addition to our built-in project, which we're nearly done, Lisa has been crazy busy getting us ready for our second baby.  We think we know what's going to hit us in a few weeks, so having one kid under our belts has been helpful.  Yet despite our best preparations, we know we'll be pretty exhausted soon enough (Lisa more so than me).  Prepping for baby #2 has involved mainly going though all the infant clothes, taking inventory and washing most of them.  Btw, Lisa swears by Dreft detergent for infant clothing.  She loves the smell of it.
Since we don't know what gender the next baby will be, there is only so much clothing prep we can do.  Lisa actually bought an outfit for a boy and one for a girl to bring them home from the hospital in and once the baby is born, we can wash one set and return the other.
Aside from going through all the clothes, I spent this past weekend repainting the nursery.  The room needed some touch ups.  We had our daughter's name in block letters hanging on the wall.  I had to take those down and spackle the wall and do paint touch ups. We actually joked that maybe we should name the next baby with the same amount of letters as our daughter so we can reuse the screws in the wall.  🙂   Unfortunately, the paint I had leftover from the first time we painted the room was much glossier than the paint on the wall and it stood out pretty visibly.  So I had to repaint most of the room with a fresh can.  Stinks. The room looks much, much better now though, so it doesn't feel like a total waste.  We'll throw up some update photos shortly.
Once the baby arrives, we're both going to be sleeping in shifts for a couple weeks.  To help make life easier all around, Lisa made several make-ahead meals.  A few weekends ago, she started with a couple chefs knives and some cutting boards and went to town.
She chopped up veggies and put together meal kits both for crock pot cooking and regular stove top dinners.
Even when we don't have a newborn, Lisa and I are really bad at picking meals and cooking.  We're not picky eaters, we just don't plan and execute dinner time very well.  We end up eating out a little more often than we'd like to.  By having a bunch of ready prepped dinners, it will remove the aggravation of having to decide on a meal and then run to the supermarket for supplies.  While the menu of made-ahead meals won't be huge, it'll be extremely easy to finish the cooking process and have a great dinner.
Here's what she made:
1.  Lasagna.  The containers are paper casserole dishes from Hefty and are oven ready.
2.  Avocado Enchiladas.
3. Lasagna primavera
4.  Peppers, onions and chicken for fajitas.
5.  Beef stew
6.  Bolognese sauce
So right now our freezer is busting out at the seams.  We've been tempted to eat a couple of these made-ahead dinners, but so far we haven't touched them yet.  They'll definitely come in handy.
So stay tuned, I'm sure we'll be sharing some more baby related posts over the next few weeks.
I'm hoping we keep up the make ahead meal thing even after the new infant phase.  It's so convenient.  Do you do any pre-made meal preps or do you tend to cook on the fly?
Posted by Lisa on March 17th, 2013
Happy St. Patrick's Day! We hope you had a good weekend! We were busy with "second baby preparations," which we will be sharing in the next few weeks, btw. We did get a chance to have a low key, but tasty St. Patty's day dinner!
First off, I made homemade honey butter at John's request. I've never had it, but it sounded good to me. I used Alton Brown's recipe for the ingredients, but just eyeballed the measurements. I used my Cuisinart hand mixer with the whisk attachment to cream the butter, honey, cinnamon, and vanilla extract. Then I placed the mixture in a small ramekin and let it chill in the refrigerator for a few hours. The honey butter was a great compliment to the store bought Irish soda bread.
For dinner, I made Martha Stewart's Irish Beef and Stout Stew. I halved the recipe and still had left overs for this week! This was a great tasting recipe and was very simple to make. John loves any kind of stew and this one was definitely a notch above my standard go-to stew recipe I make in the crock pot. This recipe is a keeper for sure.
For dessert we had chocolate cake with green frosting. Pretty straightforward so no pictures here. My personal preference would have been for a few shamrock shakes from MickyD's, but no one felt like running out of the house to fetch them, so I will have to wait until tomorrow! I don't know about you guys, but I love shamrock shakes. I have been drinking them since February and will continue to order them until all the McDonald's near me run out.
So that was our low key St. Patty's day celebration – what are your traditions?
Our Daughter's Wiggles Themed Birthday Party
Posted by John on February 7th, 2013
Happy Friday everybody! Hope your week has been a good one. Last Saturday we celebrated our daughter's 2nd birthday with a small family party. I guess small family is kind of a relative term in this case. Plus we had a few neighbors. We decided to go with a Wiggles theme since she's a HUGE fan of the show. Lately she's also into Caillou. It's not my favorite show, but she lets me watch hockey whenever the Flyers are on and I let her watch Caillou. I think that's only fair.
In case you're not familiar with the Wiggles, it's a group of Australian dudes that wear colored t-shirts and sing and dance. She's a big fan of their music. There are few things cuter in life than watching a 2 year old try to dance along with a TV show. They each wear a different color: purple, red, blue and yellow. So, the challenge for decorating the party was to try to incorporate those hues into the party decor.
Instead of using our house like we did at her party last year, this year we rented out a local small school house. It was ideal. All we had to do was some light cleaning afterwards and we were set.
For food, we had a decent variety with pasta and potato salad, lunch meats, tomato pie and Chik-Fil-A nuggets (jackpot).
Lisa made some Wiggles colored cake pops for dessert to supplement the birthday cake.
She didn't stop there either. She also had time to make cookies! Everyone got a little cookie baggie as party favors. The best party favors are ones you can eat before you get to your car, IMHO.
My favorite dessert also made an appearance, pretzel donuts!! While they may look like your average glazed donut, make no mistake, these donuts are something different. They are amazing. I'm convinced they alter the part of your brain responsible for decision making. I've seen people snort them. One of the neighbors that attended is now a full blown pretzel donut addict. The thing is, these donuts may not even be the best product this bakery makes. Scary.
I digress.
We also put together special little goodie bags for the other little kids in attendance.
All the invitations, the cookie bags and the kids' party favors had these custom made Wiggle graphics. Lisa took a stock Wiggle image, added the stars background in Photoshop and printed them all up. Fun stuff.
So, I think Lisa and I are both hoping that this time next year we're not posting about a Caillou themed 3rd birthday party. I'm not even sure what that would look like. I presume it would involve a lot of whining and disappointment as is the overarching theme of that cartoon.
What are your weekend plans? Any foods you're addicted to or is that just me (and now Mike)?
Posted by Lisa on December 13th, 2012
Every year I make Christmas cookies with my mom. We've been making them together since I was a little kid with my grandmom. Since we've been married, I've also been putting together a cookie tray for John to take to his office Christmas party. We always make certain traditional Italian cookies and every year try out one or two new cookie recipes. Here's what we baked up this year…
1. Peanut Butter Blossoms. These are peanut butter cookies that are rolled into a ball, then rolled in suger, baked and while hot out of the oven, they are pressed down with a Hershey kiss. This isn't a family recipe or anything. You can see the actual recipe on Hershey's website.
2. Crispy Chocolate Chip Cookies. These are a thin, buttery, crispy, chocolate chip cookies that are my "go-to" chocolate chip cookies. Most chocolate chip cookie recipes I've seen make thicker, chewier cookies. That's fine if you like that, but I really like this crispy version. The recipe is Martha Stewart's daughter's and can be found here. This recipe makes 30 4-inch cookies, which are HUGE. I typically halve the recipe and make smaller sized cookies, say 2 or 3 inches in diameter.
3. Crescent Cookies. This is a traditional Italian cookie that my grandmother taught my mom to make way back in the day. She has been making them ever since. They are made with Pecans and are rolled in powdered sugar. Enuff said. Nom nom. I'm not sharing this recipe. Sorry!! Ancient family secret. 😉 I'm sure you can find something delicious online.
4. Spritzer Cookies. These are a cookie that was made by my grandmother. They are a lovely, light, buttery cookie that are decorated with sprinkles. You'll need a cookie press and various dies to make these. We always use the wreath and the Christmas tree and this year we tried the snowflake shape.
5. Raspberry Filled Linzer Sandwich Cookies. This is a new cookie we made this year and it's delicious! The only drawback is the recipe doesn't make a lot of cookies. We used the Wilton recipe that came with the Linzer cookie set. If you don't bake regularly, these cookies may be more challenging. They also take a lot of time. It's hard because you have to roll the dough out really thin, which makes transferring the dough to your cookie pan hard without cracking them. They're definitely worth the effort though! Here's a tip: Refrigerate them overnight for an even better taste.
< 6. Raspberry and Apricot Filled Thumbprint Cookies. These are my favorite Christmas cookies of all time. Period. It's not Christmas without me inhaling 2 dozen of these little gems. Once again, this is a family recipe, so I'm not sharing. There are plenty of thumbprint cookie recipes floating out there. They can be filled with just about any type of jam or dried fruit, but my personal favorite is seeded raspberry preserves dusted with confectioners' sugar. Ridic.
7. Sugar Cookies. These are basic sugar cookies that are rolled out and cut with Christmas themed cookie cutters. They are what we'll be leaving out for Santa and Rudolph on Christmas Eve. Any basic sugar cookie recipe will probably do fine.
So, this may be my favorite Christmas tradition and I'm still making some yet. If I do, I'll share those as well.
What are your Christmas culinary traditions? Do you bake something every year or do you cook?
Posted by Lisa on November 14th, 2012
Hey hey! Can you believe Turkey Day is a week away? I feel like Halloween was just last week! Wait a sec, if you live in New Jersey, then Halloween may have been celebrated last week. Time is really flying by. Good ole Saint Nicholas will here before we all know it (or have time to shop and decorate!). I am thinking about decorating for Christmas before Thanksgiving. I usually wait a week or two after, but I am thinking about changing it this year – do any of you decorate early?
With the big day fast approaching, many shopping trips to the grocery store have already occurred and at least one more is needed for next week to pick up my fresh grocery items needed for my recipes.
We aren't hosting Thanksgiving this year, but we do plan on making our own Thanksgiving meal Friday for extra leftovers and to refuel from Black Friday shopping. Here is our traditional Thanksgiving menu (all from scratch):
– Turkey, oven roasted
– Dressing/Stuffing, cooked outside of the bird
– Sweet potato casserole with marshmallows
– Mashed potatoes
– Cranberry sauce
– Green bean casserole
– Dinner rolls
– Pumpkin pie
My favorite part of Thanksgiving dinner are the sides, we could definitely skip the turkey, but then John couldn't make Turkey BLT sandwiches!
Here are some pics of Thanksgivings past for your enjoyment.
2009, in our old home:
My first cooked turkey!
The tablescape.
I loved those DIY tea light pumpkins. All I did was carve the tops of by Jack-be-little pumpkins to fit a tea light, and voila – a beautiful candle holder!
2010, John and Lisa plus one at my parents' house:
2011, in the new house:
Pumpkin candle, take two.
What are your Thanksgiving traditions?? Are you hosting it this year or are you going to a friend or relative's house?

Pinterest Challenge : Rice Crispy Treats
Posted by Lisa on October 29th, 2012
Hey everybody! So Hurricane Sandy hasn't been too bad, although it actually hasn't hit land by the time I'm writing this. We'll fill you in on Wednesday or Thursday if we have any weather related issues. Hope everyone affected is doing well.
If this Pinterest Challenge post seems a little familiar it's because I posted this recipe not too long ago. Back in May, I made cake batter rice crispy treats for a little Philadelphia Flyers get together for the play-offs.
Our daughter just had a Halloween party at her toddler dance class so I decided to whip up a version of these yummy treats to share with the other kids. The recipe and the instructions are identical to the Flyer's treats and can be found here.
The original pin is from this photo, which is on the same site as the recipe: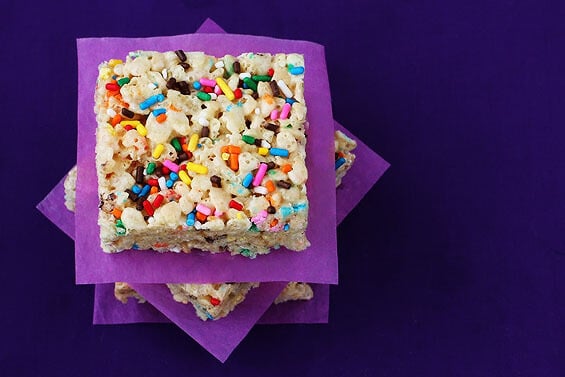 This time, instead of placing the treats in a pie pan, I molded the treats in a 9×13″ glass pan and then I turned the mixture out between two pieces of wax paper and used my rolling pin to flatten out the treats a little more.
Once the mixture was rolled out I used a pumpkin cookie cutter sprayed with Pam to cut the treats out. You can't let the treats cool too much or it will be too hard to use the cookie cutter. I also sprayed the cookie cutter after each use since the mixture was really sticky and gooey. After letting the treats harden on the wax paper for about an hour, I placed each piece in a glycine treat bag and wrapped them with an orange bow.
The party was a lot of fun and the kids enjoyed all the homemade treats and a lot of candy was shared. I hope you decide to make this recipe to share with friends and family – it's really easy and is a simple twist on a classic treat.
Hope everyone stays safe and dry!
Parish Picnics and Potato Pancakes
Posted by John on July 17th, 2012
   On Friday afternoon, Lisa and I took the baby up to Swoyersville in Northeast Pennsylvania to attend my old parish's annual summer picnic.  My mom and brother still live up there and she volunteers every year, usually helping out in the kitchen during the festival.  I grew up in that parish and have many memories there, most are happy with only a few sad ones.  The parish has since merged with other local Catholic parishes to form the new parish of St Elizabeth Ann Seton.
The actual church is Holy Trinity and it's also where I attended grade school.  During the school year, we arrived for our "home room" at a daily 8am mass before shuffling over to the school building.  The class sizes were tiny.  I think I was one of seven students in seventh grade there before we also merged with other local parochial schools for eighth grade.  Yeah.  That small.
The summer picnic is usually three days in July (Thu-Sat) and has been celebrated longer than I've been alive.  The bazaar wraps around the parking lot surrounding the school, the rectory and the church.  It kicks off around 4pm and it gets packed.  The beer tent (yes, there is a beer tent) is usually pretty over flowing with parishioners, neighbors and volunteers.  There are a lot of raffles, BINGO and kids games  In mid-July, if you're in NEPA, this is the place to be.
The best part of the whole celebration is easily the food.  Since this parish was originally founded by Slovaks and there are a lot of Polish families in the area, there is a long tradition of wonderful ethnic food at this bazaar.  I honestly don't know what the difference between Slovak and Polish food is.. it may all just be Polish food at this point anyway.
Behold, the ethnic platter:
1.  Piggies in a blanket.  These are all beef balls, ironically not pork.  They are combined with cooked white rice and wrapped in a cabbage leaf.  They are then basted with a tomato and water sauce and cooked until done.  They are simple and flavorful.  My Polish grandmother used to make these quite often.
2.  Pierogies.  No autospell, not "groupies."  Just like Mrs. T's except these are perfect.  Dough pockets filled with potatoes and cheese.  They are boiled then baked with a ton of butter and some onion.  They literally melt in your mouth.
3.  Halushki.  It's pasta with cabbage and onion and you guessed it, butter.  It's surprisingly flavorful for the minimal amount of ingredients that go into it.  It's kind of like the fries to this happy meal.
During our visit, we were able to pop in on my mom while she was in the kitchen.  My mom is Irish, but she still helps to prepare the Polish food.  The pierogies are made well ahead of time and then frozen.  They are then defrosted and cooked during the festival.  They make an unbelievable 9500 DOZEN pierogies for this picnic.  Amazing.  What's even more amazing is they'll sell all of them.
The pierogies waiting for the pots..
All the pots boiling…
Just outside the kitchen, other volunteers are preparing the kreple, which are little donuts.  They roll out the dough in this impressive machine… that conveyor belt is about 8 feet long.
A Polish summer festival wouldn't be complete without the signature dish: the potato pancake.  These pancakes are potatoes mixed with a pancake like batter and fried until cooked through.  The demand for these pancakes gets pretty large so they have a team of pancake fryers standing by to sling one off.  They have about six fry stations in case things get real crazy.
While this is our daughter's first festival, I've brought Lisa here before.  Amazingly enough, she's never had a potato pancake.  What gives?  That's like going to a Queen concert and leaving before Bohemian Rhapsody.  What's the point??  This time she was interested in trying one.

We bought two fresh off the fryer.  You can eat them just like that, but personally, I love them with just a touch of salt.
The verdict?  She really liked it.  That and we inhaled a bag of kreple before we got to the turnpike.  I think that means we'll be coming back again next year.  🙂
What are your favorite summer traditions?  Do any of them involve drowning things in butter?  Why not?
Patriotic Chocolate Chip Cookie Bars
Posted by Lisa on July 4th, 2012
Happy Fourth of July! We hope you have a great holiday. We are laying low and working on the house (surprised!?).
I am planning a faux cookout thanks to my Griddler. To serve as the dessert, I whipped up a batch of patriotic chocolate chip cookie bars.
This recipe is courtesy of my mom. She made this recipe (in its original form) as a birthday cake for me circa 2005. The original recipe is from Wilton and it uses a giant cookie pizza/pie pan. I know you've seen the huge cookies decorated at the supermarket.
She decorated it for me that year as a birthday cake, but we usually make the giant cookie into individual slices.
I forgot to borrow the pan from my mom when I knew I was going to make the cookie so I improvised and used a glass pie pan. I originally planned on using two but once the batter was mixed, I decided on making one thicker cookie. Hence the name, cookie bars.
Here is the recipe.
1/2 cup butter
1/2 cup granulated sugar
1/4 cup packed brown sugar
1 egg
3/4 teaspoon vanilla
1 1/2 cups all purpose flour
1/4 teaspoon baking soda
1/4 teaspoon salt
1/2 cup semi sweet chocolate chips
Preheat oven to 350°F. Spray pan with vegetable pan spray. In a large bowl, cream butter with sugars. Add egg and vanilla and mix well. Sir in flour, baking soda and salt then mix well. Sir in chocolate chips. Spread into a prepared 9 by 13 inch circular pan with a spatula. Bake 15 to 20 minutes or until light golden brown. Cool on a rack for 5 minutes. Remove from pan. Cool before cutting. Makes 8 to 10 servings. May be decorated with sprinkles or written on with icing.
All the ingredients – I bet a lot of you have these already in your pantry.
Incorporating the flour to sugars, egg, vanilla, and baking soda. I find a wooden spoon is the best to do this step.
Another tip is mixing the chocolate chips in with your (clean) hands.
Pushing the batter mixture into the pie pan.
I added red, white, and blue sprinkles for decoration.
The cookie bakes for about 20 minutes. You'll know when it's don't when the edges are golden.
After the cookie completely cools, cut in half. To make bars, I then cut perpendicular to my original cut. You can also cut the cookie like you would a pizza.
Looks pretty good, right?
I'm not going to lie, I ate about 4 while I was cutting the bars up!
We hope everyone has a happy and safe 4th of July!

Posted by Lisa on June 19th, 2012
Welcome to baked goods Wednesday!  Like that?  I just made it up!
I love baking! I try and bake as much as possible, but it's hard to find the time. I do try and cook at home a lot and try new recipes and I love finishing a great homemade meal with a homemade dessert.
These beautiful little madeleine cookies are a french recipe that is really simple to make.  I love this recipe because not only are the cookies delicious but you probably already have all of the ingredients in your pantry.  However, to get the shell shape you will have to purchase a special madeleine pan if you don't have one, although I'm sure you could probably improvise!
When finished, the cookies look like shells, which may be why people will be so impressed when they see them.  The recipe I used is originally from Bon Appetit Magazine and the link is here and I followed the recipe as is, except I used lemon extract instead of lemon peel since I did not have any fresh lemons on hand.  I subbed 1/2 teaspoon lemon extract for 1/2 teaspoon grated lemon peel.
Here's my ingredients.
In this next photo, all the ingredients are incorporated except for the melted butter.
Adding the butter as a steady stream.
I measured 1 tablespoon into each cookie mold – this will make them look uniform.
After baking for 13 minutes…
The smell in your kitchen will be amazing.  I really love lemon and these cookies have a perfect blend of lemon and vanilla. The spongy texture of this cookie is unlike any other cookie out there!
All ready for an afternoon snack and a tea!
I promise people will be so impressed if you bring these to a party or of you give them as a gift to a friend.  Or you can even be greedy and keep them for yourself!
Any baking plans in your immediate future?